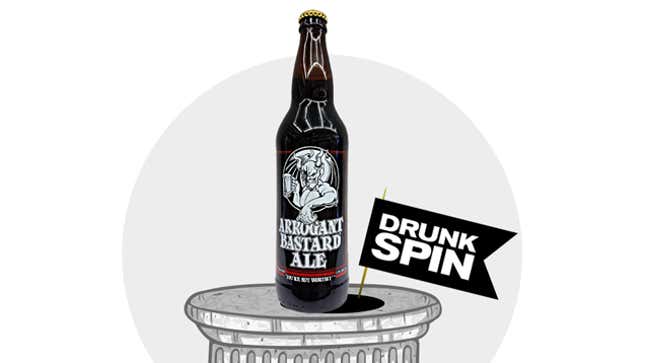 Time Out Chicago's Amy Cavanaugh recently criticized Pig Minds Brewing for naming their new blueberry beer "PD California Style Ale." The label features a waist-down image of a cartoon lady in a skirt with her underwear around her ankles, leaving no doubt what PD stands for: This beer is designed to make women drop their panties.
This is the iconic Billy Dee Williams Colt .45 ad campaign—"It works every time [to get me laid, although being Billy Dee Williams probably doesn't hurt, either]"—taken 30 years into the future and scuzzed through the roof. I don't know if that's what the meatheads at Pig Minds were going for. And regardless of intent, I'm not accusing them of a crime against humanity. But the beer game is a notorious boys' club, so skepticism is justified. The packaging for this beer is definitely tacky, probably degrading, and possibly threatening. Smarten up, Pig Minds.
There are hundreds of sexist, pun-based, or otherwise stupid beer names out there. But except when protesting something blatantly offensive like PD California Ale, we should probably wince and bear the dumb stuff, because the cooler is overflowing with great products with bad names: Stone's Arrogant Bastard, for example.
I considered Arrogant Bastard for a recent compilation of overrated beers, because the name is so macho-gimmicky—as is the bottle's "You're Not Worthy!" tagline and accompanying ramble about how only real tough guys have what it takes to appreciate true excellence, etc.—that I suspected Arrogant Bastard was more about the marketing than the beer.
But in the interest of fairness, I knew I had to drink it for the first time in years before issuing a final verdict, so I scored a bottle ($6 for 22 ounces), poured a glass, then happily drank up and piped down upon realizing that Arrogant Bastard is, in fact, excellent beer. This American strong ale might be Stone's most balanced offering, likely because it debuted 1,000 years ago in 1997, before the world in general, and Stone in particular, went fully hop-bonkers. (It's also a relatively demure 7.2-percent alcohol by volume.)
Arrogant Bastard pours a gorgeous deep ruby color with a fluffy off-white head. The aroma is heavy on pine and sweet caramel, but things turn darker come drinking time. The caramel character takes on a charred edge mid-palate, where it is joined by hints of toasted bread, high-cacao chocolate, black plums, and cherries. The resiny hop bitterness reemerges on the very dry finish.
Stone's marketing and public relations might not be to every gentler soul's liking—they also brew Sublimely Self-Righteous Black IPA, and co-founder Greg Koch's reputation within the beer industry suggests that not all of that projected cockiness is tongue-in-cheek—but there's no denying that they produce some great beers, including this one.
---
This is Drunkspin Daily, the Concourse's adequate source for booze news, reviews, and bullshit. We'll be highlighting a beer a day in this space; please leave suggestions below.
Will Gordon loves life and tolerates dissent. He lives in Cambridge, Mass., and has visited all of the other New England states, including, come to think of it, Vermont. Find him on Twitter @WillGordonAgain.
Image by Jim Cooke.
The Concourse is Deadspin's home for culture/food/whatever coverage. Follow us on Twitter:@DSconcourse.