Every Friday, SportsFeat picks a few great weekend reads for Deadspin. In honor of Derek Jeter and his labored quest for 3,000 hits, here are well-told stories of ballplayers just before, in the years after, or at the exact moment they retired.
For a daily selection of top-shelf sports writing, both new stuff and classics, check out SportsFeat.com or follow @sportsfeat on Twitter.
G/O Media may get a commission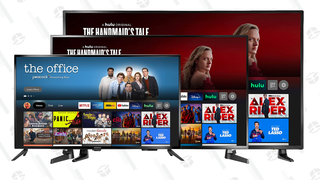 Up to 44% off
Prime Early Access - Insignia Fire TVs

John Updike • The New Yorker • October 1960
One of the most famous pieces of sportswriting ever, Updike's essay ends with Ted Williams's final at-bat:
Like a feather caught in a vortex, Williams ran around the square of bases at the center of our beseeching screaming. He ran as he always ran out home runs — hurriedly, unsmiling, head down, as if our praise were a storm of rain to get out of. He didn't tip his cap. Though we thumped, wept, and chanted ''We want Ted'' for minutes after he hid in the dugout, he did not come back. Our noise for some seconds passed beyond excitement into a kind of immense open anguish, a wailing, a cry to be saved. But immortality is nontransferable. The papers said that the other players, and even the umpires on the field, begged him to come out and acknowledge us in some way, but he refused. Gods do not answer letters.

Every true story has an anticlimax. The men on the field refused to disappear, as would have seemed decent, in the smoke of Williams' miracle. Fisher continued to pitch, and escaped further harm. At the end of the inning, Higgins sent Williams out to his left-field position, then instantly replaced him with Carroll Hardy, so we had a long last look at Williams as he ran out there and then back, his uniform jogging, his eyes steadfast on the ground. It was nice, and we were grateful, but it left a funny taste.
What Is Rickey Henderson Doing in Newark?

Tom Verducci • Sports Illustrated • June 2003
The great stories of Henderson's major league career, told against the backdrop of his hoping for a final shot:
The legend of Henderson is real, all right, as real as the check-cashing service with the metal security gates on Broad Street in downtown Newark, which is about all the local color there is in the neighborhood of the mostly empty Bears & Eagles Riverfront Stadium, home to the Newark Bears of the independent Atlantic League-and, at the moment, to Henderson.

"We need to shift the ballpark to another location or something," he says.

At age 44 the future first-ballot Hall of Famer is here on the wrong side of baseball's tracks, not to mention those of New Jersey Transit, whose cars clackity-clack a pop fly away from his leftfield post. He signed with the Bears on April 24 and has come to downtown Newark for one last shot at the major leagues, which makes him, in every sense, an urban legend.

Pat Jordan • Deadspin • March 2008
The ugly realities of life as, and with, Jose Canseco:
Heidi, Rob told me, is Jose's girlfriend/publicist. She's a "cute, little, junior college graduate, who lives with Jose," said Rob. "She likes to let Jose think she's working hard for him when really all she is doing is fucking things up for him." Rob said Heidi lives with Jose without paying anything, which may be literally true, but not figuratively. The price women pay for living with Jose is actually quite high. All those boring days and nights during which Jose rarely speaks, except to say, "Where's the Iguana?" because of Jose's fervent belief that when "women talk only bad things can happen." All those needles and vials of performance enhancing drugs around the house which his woman of the moment must learn to differentiate, winstrol from deca-durabolin from HGH, and then draw the proper amount of fluid into each syringe and inject that needle and its fluid into Jose's buttocks. All those variations of his moods from steroid-fueled anger to steroid-withdrawal depression. All those startling changes in his genitalia, his penis swelling with steroid use at the same time his testicles are shrinking from steroid use. All those strange women's messages on Jose's cell phone. All those trips to the gynecologist to cure the STDs Jose brought back with him from one of his road trips. And, finally, most depressing of all, all those perfunctory sex acts with Jose, doggy style in front of a mirror so Jose can watch himself perform, his chest muscles and biceps twitching as he works. Which is why Jose's first two wives, Miss Miami, and Miss Fitness America, divorced him.

Gay Talese • Esquire • July 1966
On the complicated post-retirement days of Joe DiMaggio:
Everywhere he goes the question seems the same, as if he has some special vision into the future of new heroes, and everywhere he goes, too, older men grab his hand and feel his arm and predict that he could still go out there and hit one, and the smile on DiMaggio's face is genuine. He tries hard to remain as he was — he diets, he takes steambaths, he is careful; and flabby men in the locker rooms of golf clubs sometimes steal peeks at him when he steps out of the shower, observing the tight muscles across his chest, the flat stomach, the long sinewy legs. He has a young man's body, very pale and little hair; his face is dark and lined, however, parched by the sun of several seasons. Still he is always an impressive figure at banquets such as this — an immortal sports writers called him, and that is how they have written about him and others like him, rarely suggesting that such heroes might ever be prone to the ills of mortal men, carousing, drinking, scheming; to suggest this would destroy the myth, would disillusion small boys, would infuriate rich men who own ball clubs and to whom baseball is a business dedicated to profit and in pursuit of which they trade mediocre players' flesh as casually as boys trade players' pictures on bubble-gum cards. And so the baseball hero must always act the part, must preserve the myth, and none does it better than DiMaggio, none is more patient when drunken old men grab an arm and ask, "Who's gonna take it this year, Joe?"

Two hours later, dinner and the speeches over, DiMaggio was slumped in O'Doul's car headed back to San Francisco. He edged himself up, however, when O'Doul pulled into a gas station in which a pretty red-haired girl sat on a stool, legs crossed, filing her fingernails. She was about 22, wore a tight black skirt and tighter white blouse.

"Look at that," DiMaggio said.

"Yeah," O'Doul said.

O'Doul turned away when a young man approached, opened the gas tank, began wiping the windshield. The young man wore a greasy white uniform on the front of which was printed the name "Burt." DiMaggio kept looking at the girl, but she was not distracted from her fingernails. Then he looked at Burt, who did not recognize him. When the tank was full, O'Doul paid and drove off. Burt returned to his girl; DiMaggio slumped down in the front seat and did not open his eyes again until they arrived in San Francisco.
Have a favorite piece that we missed? Leave the link in the comments or tweet it to @sportsfeat.