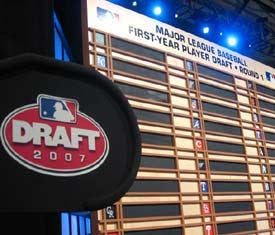 We love baseball more than just about anything else on earth, so we appreciate them trying, but sorry, MLB: We just can't get excited about the MLB First-Year Player Draft today. (It starts at 2 p.m. ET, so set your Tivos to "stun.")
We understand that it's in MLB's best financial interest to try to turn its draft into something approximating the NFL's, or at least the NBA's, but it's just never going to happen. You think an NFL draft is full of names you don't know? The Rays are deciding between two guys named Tim Beckham and Buster Posey today, and if you know who those people are, you're either a scout or you went to high school with one of them. And we're still years away from actually seeing them play in the first place.
But, you know, if you really want live streaming of the MLB Draft, you can get it today. We don't understand it, but, whatever, knock yourself out. We're more excited about the Negro League Draft beforehand anyway.
Rays Deciding Between Two For Top Pick [MLB.com]
(UPDATE: Ha. Walk Off Walk is live blogging this. That'll be, uh ... fun.)