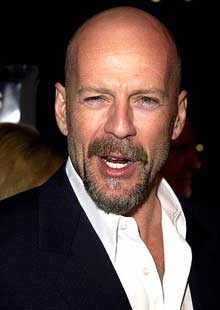 As Awful Announcing reported yesterday, tonight, ESPN will bring you a Very Special "SportsCenter" featuring Bruce Willis, Live Free Or Die Hard and all kinds of WACKY HIJINKS.
This first-of-its-kind movie promotion with ESPN will culminate in a special "Live Free or Die Hard" edition of SportsCenter on June 26. Commercial breaks will be replaced by interstitial vignettes featuring Willis, the Philadelphia Eagles' Donovan McNabb and ESPN's Mike & Mike. There will also be exclusive sneak peaks of "Live Free or Die Hard," which Twentieth Century Fox releases everywhere June 27. Additionally, Willis will be seen in hilarious co-branded TV spots alongside the San Diego Chargers' Antonio Gates announcing "The 'Live Free or Die Hard' Sports Fan Challenge" and inviting viewers to log on to ESPN.com to enter the contest.
Considering how much fun Bruce Willis typically has at sporting events, we do hope that Bristol is serving plenty of vodka and red bull today. Maybe we'll be lucky, and he'll sing, or maybe just go all Gimp on Mike Greenberg.
Bruce Willis And His 4th Die Hard Movie To Ruin SportsCenter [Awful Announcing]
Bruce Willis Likes Him Some Jersey Beer [Deadspin]