A former Michigan State football employee whose contract wasn't renewed after police said he investigated a sexual assault complaint made against several football players without reporting it is suing the university. In his lawsuit, filed on Monday, Curtis Blackwell says that Michigan State ended his contract because of the escalating reports about how the university had enabled Larry Nassar, who later was convicted on multiple counts of criminal sexual conduct. He also claims in the complaint that all he did was inquire about what had happened at a party, which was part of his job's function of "mentoring student athletes."
The best sports movies according to Toheeb Jimoh
The lawsuit names former Michigan State president Lou Anna Simon, current head football coach Mark Dantonio, athletics director Mark Hollis, and two Michigan State police detectives, Chad Davis and Sam Miller. It was filed in federal court in Michigan.

Blackwell was let go in June of 2017. Earlier that month, arrest warrants were signed for three Spartans football players for their roles in a sexual assault. All three eventually pleaded guilty to a lesser charge, seducing an unmarried woman, and were sentenced to probation with community service.
After the arrests, police documents obtained by the Lansing State Journal showed that on Jan. 16 of that year a football player had told Blackwell that he had been at a party when he found a woman in the bathroom "distraught and messed up." Afterward, Blackwell texted one of the players' fathers and talked with with two of the players, the State Journal reported.
G/O Media may get a commission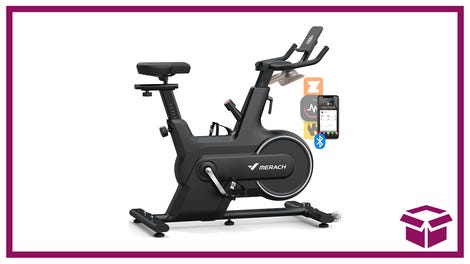 14% off + Coupon
Merach Indoor Cycling Bike
In his lawsuit, Blackwell asserts a different narrative. From the complaint:
One of the player's father contacted Plaintiff to inform him that he heard of a wild off-campus party his son and other freshmen had attended and asked Plaintiff to inquire if anyone was in trouble.

Plaintiff inquired of several players, including one, Auston Robertson, that told him he had already spoken with Defendant Dantonio who had directed him to contact the Title IX Office to report a potential sexual assault incident.

Plaintiff's inquiry of Auston Robertson and other players was limited to whether they got into any trouble at the party; they all said "no".

No player acknowledged committing a crime or any sort of sexual contact.

Plaintiff also informed Robertson that "if you didn't do anything, you know, why are you concerned? You know, just go in there and tell the truth."

At no time did Plaintiff conduct an investigation into what had occurred at the January 15th party; rather, he was simply "mentoring the student athletes" by encouraging them to stay away from wild parties.

... As set forth above, Plaintiff never violated MSU policy prohibitions against staff conducting investigations into sexual assault incidents; Plaintiff merely inquired if the players got into any trouble at the January 15, 2017 party.
In the lawsuit, Blackwell also says that when he talked to officers on Feb. 8, they placed him under arrest without reading him his Miranda rights, seized two cell phones, and escorted him out of the parking lot "for no good reason." His rights were read to him later, at the police station. Blackwell was never charged with a crime. But Michigan State officials, his lawsuit asserts, "ran roughshod over Plaintiff's rights when he was wrongly accused" because of all the Nassar coverage in the news.
The backdrop for this newest MSU scandal was the Larry Nassar sexual abuse investigation which revealed the MSU officials to be less than proactive in protecting the rights of sexual abuse victims; consequently, Defendants Simon, Hollis and Dantonio were eager to trammel the rights of Plaintiff to demonstrate their newfound commitment to protecting the rights of sexual abuse victims.
Deadspin has reached out to Michigan State officials for comment and will update if they respond. The full complaint is below.