Welcome to Deadspin's irregular pro wrestling column, in which Tom Breihan and Ernest Wilkins will comb through the past month or so of superkicks, lariats, and 450 splashes in search of the greatest things that this most American of artforms has given us.

Tom Breihan: It's been an eventful month in wrestling, but mostly for bad reasons, and mostly for reasons that don't have anything to do with what happened in the ring. In just the past few weeks, we've seen one legend disgrace himself to the point where he's getting written out of official histories, and we've seen another leave this mortal plane entirely. If you care at all about professional wrestling, the loss of Rowdy Roddy Piper probably hit you hard. He was young—just 61!—and, more than that, he seemed to crackle with this vitality that made him ageless. He'd been in wrestling forever, and he'd subjected his body to all the things that cause so many wrestlers to die before their time. But he somehow seemed above all that. He seemed like he'd live forever.
Piper got his start early, starting riots in the Southern California territory by race-baiting the Mexican-American fanbase and torturing the hero Chavo Guerrero when he was barely out of his teens. He moved on—to Portland, to the Crockett territory, and finally to the WWF, where he played the vital role of asshole villain to Hulk Hogan's square-jawed superhero. It's entirely possible that the first national wrestling boom period wouldn't have happened without Piper in there, cackling and snarling. He left wrestling for a little while and made some great B-movies. (Shout out to They Live, but also shout out to Hell Comes to Frogtown; don't sleep on that one.) He found his way back. He showed up in WCW in the '90s, just like every other aging WWF legend. In the twilight of his life, he could still bring anarchy; I have fond and fresh memories of a drunk Piper arguing with a drunk Cyndi Lauper in a recent WWF ring for no reason at all. And now he's suddenly gone, and that sucks.
With the recent passings of Piper and Dusty Rhodes, WWE has done a nice job acknowledging its legacy and treating its history with some gravity, something the company hasn't always been great at doing. And it's also keeping the past alive by throwing the Undertaker into the main event of one of its biggest shows of the year. Ernest, how do you feel about how SummerSlam is shaping up?
Ernest Wilkins: I wasn't really into Roddy Piper growing up—mostly due to a combination of watching him stink it up in WCW (my preferred promotion) and not having access to archives and things like the WWE Network—so I think his death didn't hit me as hard as that of Dusty Rhodes, whose shirt I'm wearing as I type this. Since Piper's death a few weeks ago I've watched a bunch of his biggest matches and his ability to get a reaction from an audience was beyond impressive. Wrestling is a business that lives and dies with the heels, and if we're talking bad guys, Piper should be on their Mount Rushmore.
G/O Media may get a commission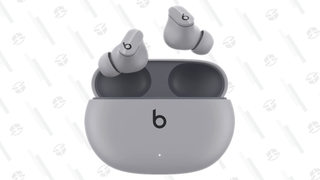 In lighter news, we have a LOT going on in the world of wrestling. New Japan Pro Wrestling wrapped up the 25th annual G1 Climax, an event that annually produces some of the best wrestling matches of the year over the course of a jam-packed three weeks. If you're unfamiliar, basically imagine if WWE's King of The Ring were one big tournament where the winner gets a guaranteed title shot at WrestleMania. This year, we got no less than four matches I'd put up for match of the year consideration (Hiroshi Tanahashi vs AJ Styles, Tomohiro Ishii vs. Michael Elgin, and Shinsuke Nakamura's back-to-back matches against Kazuchika Okada and Tanahashi). After it's all said and done, Hiroshi Tanahashi—who some are referring to as the Japanese John Cena given his perpetual main event appearances and protected status—won the whole thing and is now basically a lock to face his rival Okada at Wrestle Kingdom 10 (New Japan's answer to WrestleMania) next January to end their feud (that's been going on for four years and counting).
Not to be outdone, our consensus Best Wrestling Show On TV Lucha Underground wrapped up its amazing first season with Ultima Lucha, a two-episode finale that I have no problem calling one of the best events of the year. ALL of the feuds were wrapped up and we got a lot of closure as well as some threads leading into season 2. The Alberto El Patron-Johnny Mundo match more than delivered. The Pentagon Jr. (easily one of the best characters in wrestling today) and Vampiro bout was a bloodbath with a very odd, yet satisfying ending and Prince Puma (aka Ricochet aka the best high flyer on Earth right now) and Mil Muertes had a great main event match for the title. Tom, did you like Ultima Lucha? How do you feel about how they wrapped it all up?
Tom: Ultima Lucha was just a lovely thing to behold. We don't yet know if Lucha Underground is coming back. A second season hasn't been confirmed yet, and while everyone seems to agree that it'll probably be back next year, the producers still need to lock down a whole lot of outside funding. So if this turns out to be the last we see of Lucha Underground—if it's a brief and glorious anomaly—Ultima Lucha was a fitting goodbye.
One of the great things about Lucha Underground is the way it actually pays off the stories that it takes the time to set up. So Prince Puma, the ridiculously gifted high flyer who held the championship since the championship was first announced, finally lost it. It only made sense to lose it to one guy, and he lost it to that guy: Mil Muertes, the show's brawny embodiment of death, has been its most insanely overpowered figure ever since he came back from losing that beautiful and insane Grave Consequences match to Fénix. And those two guys spent the better part of a half hour throwing everything at each other. It wasn't the best match of Lucha Underground's year, but it was up there.
Actually, though, it might not have even been the best match on the show. Vampiro and Pentagon Jr. managed to go full CZW while still keeping the show's mythic and absurd sensibility intact. So Vampiro got to dress like a Satanic pope, and he and Pentagon got to bleed all over each other, smashing each other with chairs and thumbtacks and halogen light tubes. And when all that was over, they got to act out this dark-fantasy scenario, giving a truly satisfying payoff to a mystery that the show's been building all year. And then there was the ending of the show: a Wire-style montage of so many of the show's characters, major and minor, moving onto the next thing. I just hope there is a next thing.
Ultima Lucha might've been the biggest show of the past month, but there are bigger things on the horizon. This weekend, we've got the biggest NXT Takeover special yet: Kevin Owens and Finn Balor in a championship ladder match! Bayley finally getting a chance to win the women's title! Jushin "Thunder" Liger in a WWE ring for the first time ever! It's in a sold-out, full-sized arena, and it's still just the opening act to SummerSlam, which looks like it could be great. What are you looking forward to the most about WWE's big weekend?
Ernest: To start, I'm looking forward to this weird new world where SummerSlam weekend garners as much hype as WrestleMania weekend usually does. Crazy, right? From WWE announcing the event would last four hours to the NXT Takeover event selling out a 13,000-person venue to Ring of Honor saying "Screw It!" and doing an event featuring wrestlers from New Japan...other than Liger, who's wrestling for WWE that night...as Voltaire used to say, this weekend is going to be fuckin' LIT.
Two big notes to keep an eye on this weekend:
• We're getting a schmozz ending to Brock Lesnar-Undertaker. No clue how they'll do it (probably via the return of masked Kane, which zzzzzzz) but it's happening. Weirdly enough, we might see Taker go heel here, which would set up the obvious rubber match at WrestleMania but make no mistake, this one isn't ending cleanly.
• Bayley and Sasha Banks will have the match of the weekend: While Banks's promotion to the main roster basically gives away the ending, WHO CARES? These two are totally well-rounded as performers and I think this is going to be the best match we get in a loaded couple of days packed with marquee matches (Owens-Balor, Okada-Roderick Strong, Cesaro-Owens...damn Kevin, way to overachieve!) What about you, Tom? What are you looking forward to?
Tom: I feel like Kevin Owens's two matches this weekend are going to be something special. On the main roster, he's been demoted from John Cena opponent to midcard guy, which is a bit of a shame. But on the Summerslam card, he's wrestling Cesaro, another great with an indie pedigree and a fervent cult fanbase. I don't even care who wins that one, I just want to see the two of them beat the shit out of each other for 20 minutes, and I want the Brooklyn audience to lose its shit for that. And on the NXT Takeover card, he's in the main event, wrestling in a ladder match against Finn Balor for the NXT Championship. That is going to be some shit. The last time Kevin Owens wrestled in a ladder match in New York, he was still Kevin Steen, and it was the Ring of Honor farewell to El Generico, who's now Sami Zayn in NXT. That match was fucking nuts, full of insanely dangerous stunts. This one could turn out to be the arena version of the same thing, and I honestly can't wait.
As for Ring of Honor, it's kind of a shame that they'll be so completely overshadowed by the NXT show on the same night. (There are widespread rumors that WWE wants to crush ROH and that they're consciously sabotaging one of the biggest ROH shows of the year.) Still, if I was in New York, I might have a tough time picking. As great as that NXT show looks, it would be hard to pass up seeing Michael Elgin wrestle Hirooki Goto in the same gorgeous Coney Island stadium where I saw Daft Punk a few years ago. There is so much wrestling happening this weekend, and so much of it promises to be great. I'm pretty much looking forward to all of it.
---
Tom Breihan is the senior editor at Stereogum. He's written for Pitchfork, the Village Voice, GQ, Grantland, and the Classical, and he writes the Netflix Action Movie Canon column for Deadspin's Concourse. He lives in Charlottesville, VA. He is tall, and on Twitter.
Ernest Wilkins is a writer living in Chicago. He's written for Gawker, Complex, Pitchfork, Noisey, GQ, Rolling Stone and the Chicago Tribune. He's 5'11" on a good day, and is also on Twitter.