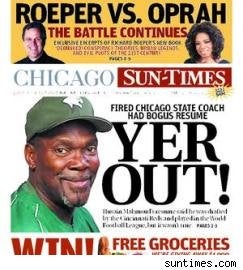 The Chicago Sun-Times ran a front-page story today about the firing of Chicago State baseball coach Husain Mahmoud for some egregious resume fabricating, but was it their story? It appears the Sun Times' story ran a little late compared to the ones published on June 12th by Babes Love Baseball and College Baseball Blog.
The Sun-Times piece does not mention either of the blogs in the story — so where did they get their big scoop from?
Michael David Smith looked into the matter, politely e-mailing the writer of the Sun-Times' story, David Newbart, to find out if this man let these blogs do his dirty work for him. He says, "Of course not, you silly typist!":
I've been working on this story on and off since mid-May, well before your blog post. We got the tip from the alumnus (I'm assuming he's the same one that contacted you) containing references to wikipedia articles, which we had to independently verify. We did our own original research on the topic, including talking to the Cincinatti Reds, Major League baseball, experts around the country who maintain records of the football leagues he mentioned, sources at the university he attended and others with the summer baseball leagues he mentioned. As it turned out, he did play for one of the teams he claimed, but after it had left the Continental Football League.

For a variety of reasons, we chose not to publish this sooner. Part of the reason for the delay was due to the fact that we didn't want to run the story without speaking to him or getting a statement from the school.
That seems reasonable. But it would also appear that the during some of his research — which included fact-checking Wikipedia articles — that a simple Google search using "Husain Mahmoud" and "Chicago State baseball" would've yielded the results of the two blog posts. In the Times' piece Mahmoud explains his oversights this way: "It's been 30-some years ago since most of this stuff,'' said Mahmoud, formerly known as Hallie Buckner. "I may not have been exactly correct on some of the leagues and different things like that because it's been so long ago.''
Maybe David Newbart suffered this same temporary amnesia? It appears to be contagious in the Chicago area.

Sun-Times Scoop Broken Weeks Ago By Babes Love Baseball, College Baseball Blog [AOL Fanhouse]
CSU's Baseball Coach's Pants Are On Fire [Babes Love Baseball]