At last, the NFL season is upon us, in all its screaming lunacy. Many people are fans of the NFL, and football, but a great and growing number of people have lost their appetite for the NFL's special brew of grating self-importance, brazen pandering, and grueling self-destruction. These roundups—a look at how other television networks are scheduling against the autumn behemoth that is the NFL—are mostly for the latter group, who might find themselves looking for something else to grab their attention on a Sunday.
Below you'll find a healthy slate of non-football sports, plus some dependable Sunday marathons, and a pretty deep selection of movies. If you're outside the immediate vicinity of Irma, chances are the weather is pretty nice—you could always head outside, go hiking, dig a giant hole in the ground, tie yourself to a pole, whatever suits your mood. If you're stuck in front of the tube for one reason or another, here are some options to help you survive:
Other Sports
Noon — beIN Sports Connect — Serie A Soccer: Benevento vs. Torino
beIN Sports Connect is beIN Sports's streaming service. Also, it's worth mentioning, if you've got an OTT service, like Sling TV, all of beIN's programming is available after the fact. Today I plan on catching the Barcelona-Levante match from yesterday, without the aid of DVR. Suck it, DirecTV.
Noon — FOX Sports 2 — Bundesliga Soccer: Shalke 04 vs. Stuttgart
Not a bad day for European soccer. Worth mentioning that FS2 does not make all their programming available after the fact on OTT services, so you'll need a DVR to catch any live Bundesliga soccer you miss.
G/O Media may get a commission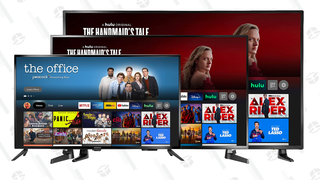 Up to 44% off
Prime Early Access - Insignia Fire TVs
Noon — FOX Sports 1 — Golf: Walker Cup at Los Angeles Country Club
It's foursomes today. I have no idea what this is.
12:30 p.m. — beIN Sports Español — La Liga Soccer: Celta Vigo vs. Alavés
These two sides will be battling to avoid relegation this season.
1 p.m. — ESPN — MLS Soccer: Sporting Kansas City vs. Columbus Crew
The fourth-place teams in the Eastern and Western Conferences square off.
2:45 p.m. — beIN Sports Español — La Liga Soccer: Villareal vs. Real Betis
A win today would put Real Betis ahead of [gulp] Real Madrid on the table.
2:45 p.m. — beIN Sports Connect — Serie A Soccer: Bologna vs. Napoli
Napoli are for sure one of the best sides in Italy, so this could be fun.
3 p.m. — ESPN 2 — WNBA Playoffs: Phoenix Mercury @ Connecticut Sun
The WNBA Playoffs are single-elimination.
3:30 p.m. — FOX Sports 1 — MLS Soccer: FC Dallas vs. Atlanta United
We're still in that part of the football season where there is tons of other sports action going on.
4 p.m. — ESPN — U.S. Open Men's Final: Rafael Nadal vs. Kevin Anderson
A win by Anderson would surely be a huge upset. Unfortunately for the underdog, Anderson has taken just one set in the previous four matches he's played against Nadal, according to Tennis.com.
4 p.m. — TBS — Baseball: Rockies @ Dodgers
Colorado is three games up on the Brewers for the second NL Wild Card spot*.
6 p.m. — FOX Sports 1 — Golf: Walker Cup at Los Angeles Country Club
Now it's singles? I mean I really have no idea what this is.
8 p.m. — ESPN — Baseball: Orioles @ Indians
The Indians are on an incredible run, and are now tied for the best record in the American League. The Orioles are three games back of the AL Wild Card and need every win they can get.
TV Reruns
1 p.m. — USA — Law & Order: Special Victims Unit
I can't understand why there isn't just one channel for each of the Law & Order franchises.
1 p.m. — Logo — Roseanne
Logo's Roseanne marathon, the prize for losing the great Golden Girls wars of 2016, runs until 4 p.m.
1 p.m. — TV Land — The Golden Girls
A Sunday staple of NFL counterprogramming.
1 p.m. — UP — America's Funniest Home Videos
This day-long marathon is a goddamn masterstroke. God help any football fan with children in the room who accidentally scrolls to the UP channel today.
1:08 p.m. — AMC — The Walking Dead
Episodes to take you all the way through today's slate of NFL action.
1:30 p.m. — Comedy Central — South Park
A day-long Sunday marathon, which I think is a semi-regular thing on Comedy Central, now.
4 p.m. — FXX — The Simpsons
Today's mini-marathon includes "Lisa the Greek" and "Lisa the Beauty Queen," and then a couple hours of later-season crap.
4 p.m. — Logo — Married ... With Children
A four-hour marathon to cover the late games.
7 p.m. — ABC — America's Funniest Home Videos
It's from Season 27, with Alphonso Ribeiro. Not the best!
Movies
Noon — CMT — City Slickers
CMT has as good an approach to NFL counterprogramming as any network out there.
1 p.m. — TBS — Man of Steel
Tough day for movies. TNT and Syfy are throwing their schedule away on shit like The November Man and Columbiana. A little early in the season to be waiving the white flag.
1:30 p.m. — IFC — The Departed
Commercials will annoy you, but at least they won't chop it to ribbons [glares at Sundance]. Also, you can catch this later—they're re-airing it immediately after the closing credits, in the neighborhood of 4:45 p.m.
2:30 p.m. — CMT — Crocodile Dundee
See what I mean about CMT?
2:45 p.m. — FreeForm — Pirates of the Caribbean: The Curse of the Black Pearl
FreeForm's lineup today is otherwise a real dog.
3 p.m. — FXM — The Sandlot
I was never especially a fan of this movie.
3 p.m. — BBC America — Black Hawk Down
BBC America is airing this for half the day: once at noon, and again here.
4:50 p.m. — VH-1 — Space Jam
VH-1 also has Purple Rain today, covering the 1 p.m. games.
6 p.m. — Sundance — The Shawshank Redemption
There it is. Like clockwork. Autumn arrives, and Sundays turn into Shawshank Redempion day.
7 p.m. — FX — The Avengers
The right kind of silly-hearted action stuff to take on the NFL, especially given the NFL's habit of producing lousy primetime games.
8 p.m. — MLB Network — Field of Dreams
Even the sports networks are getting in on the movies-versus-football act.
Do not tie yourself to a pole by the beach during a hurricane, my friends.