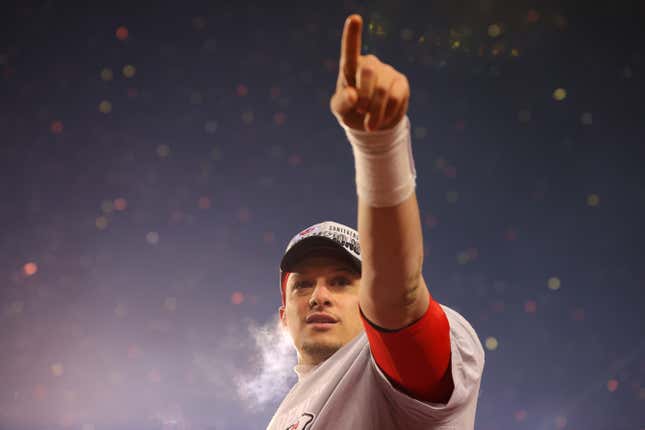 The Super Bowl is set. The Philadelphia Eagles will face the Kansas City Chiefs in Super Bowl LVII, on Feb. 12, 2023, at State Farm Stadium in Glendale, Arizona. Patrick Mahomes vs. Jalen Hurts will be the first time in NFL history that two Black quarterbacks will face off in the Super Bowl, which is significant. And get ready for two weeks of hearing this thing called "The Andy Reid Bowl," which is not.

Rihanna's new 'boo' had the best Super Bowl week — not Patrick Mahomes
Sunday night was a wild ride for both fanbases, and if you went to bed after the game ended, here's what you missed.
Arrowhead Stadium was fire-adjacent
Luckily, it looks from the images like this is just the grass around the stadium, which seems better than the stadium itself being on fire.
'Why the fuck would you touch the QB?'
Bengals' Germaine Pratt was still working through his feelings on Joseph Ossai's late hit on Patrick Mahomes on his way to the locker room:
Joe Burrow's outfit looked a lot better going in than going out

Dave Portnoy got dragged by a building
Smack talk
And former Giants kicker Lawrence Tynes tried to talk smack to Joe Staley...and failed:
Get ready for two weeks of cryptic commercials, pretending like anyone cares about the Pro Bowl (Skills Competition), and both Kelce brothers screaming into the mic.