There are several key storylines that all media outlets are required to discuss in the days leading up to the Super Bowl. We will do our part by beating them into the ground as far as we can.
Did you know that Archie Manning is not just the man who planted the seed—literally—for two of the last three Super Bowl champions? He was also a pigskin hurler himself. True story!
Archie played quarterback for the New Orleans Saints for 11 of the most horrible seasons any one team has ever suffered through. He gave that organization the prime years of his life—led the league in sacks three times!—and in return they gave him a porous offensive line and a nice concrete playing surface to land on. He was the face of a franchise that literally did not want to show its face. That anyone could persist in such a thankless job for so long is a testament to Manning's incredible selflessness or some weird gravitation field that doesn't allow him more than 100 miles from the state of Mississippi.
Yet, people actually have the temerity to ask him which team he would rather root for on Super Bowl Sunday? The one expertly captained by his rich and talented son or the franchise that lifted him to the career pinnacle of an 8-8 season thirty years ago? What did those bums ever do for him beside provide adequate health insurance and a place for his kids to run wind sprints in January? Even his slower, dumber son won a Super Bowl simply by playing somewhere that wasn't New Orleans. If poor Archie had Plaxico Burress for two years, they would have named that stupid dome after him.
The Super Bowl has become an annual Manning family reunion and they certainly don't have the Saints to thank for that. Papa Bear will be feted and praised, his wife will beam proudly, and even Eli will get to tell his Tyree war stories again. And Cooper ... oh, Cooper. No one gets more and better luxury box seats than The Coop and he doesn't even have to shill Oreo cookies to land them. It should be a good week for him too.
G/O Media may get a commission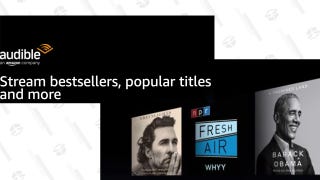 FREE
Audible Premium Plus 3-Month Free Trial
Manning family subplot hovering over Super Bowl [Casa Grande Dispatch]
Archie: A loss to the Saints would sting less [WWLTV]
It's All In The Family [KGMI]
Archie's boy waiting for Super Saints [South Florida Times]
No conflict found in Manning family [Jackson Clarion-Ledger]
The Super Bowl's True Marketing Star: Archie Manning [CNBC]
Peyton standing in way of father's team's glory [Yahoo]