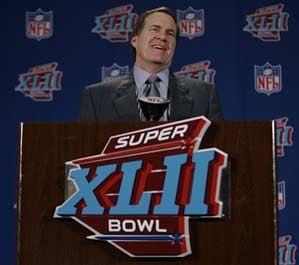 So, friends, it begins. After the endless, man, are they having ANY sports this week? of the past seven days, it's time for Super Bowl XLII exhaustion. You can't say that ESPN doesn't have you covered. Heavens.
In case you've forgotten the run of endless memes, here are the storylines that will be beaten into your skull for the next six days. Because we're heading to Glendale — in about seven hours! — under the rubric of The Sporting News, someone sent us the official media guide for Super Bowl XLII. It's so cute. Reporters are advised, if there are in need of "story ideas," to visit Scottsdale Sparkles, a glimpse of all Scottsdale has to offer, including "art galleries," "fine jewelers" and "celebrities." On it!
But hey: Maybe we'll run into Dana Jacobson. More likely than Tiki Barber, anyway.
It's Super Bowl Week. Finally. Be careful what you wish for.