You've heard of Pele and Maradona, most certainly. Today, though, I sing of Alfredo di Stéfano. Di Stéfano, who died today at 88 from a heart attack, was arguably the greatest player never to have played in a World Cup.
In a 20-year career, di Stéfano represented Argentina (where he was born), Colombia, and Spain. Although he won the Copa America with Argentina in 1947, di Stéfano really made his mark playing club soccer. Starting with River Plate at the age of 17, di Stéfano quickly gained a reputation as a prolific scorer and title-winner, scoring 139 goals in 168 appearances and winning six league titles in his first 12 seasons with River Plate and Colombian side Millonarios.
Di Stéfano's jaw-dropping performances in South America caught the eye of Real Madrid's president, Santiago Bernabeu, particularly after Di Stéfano's Millonarios team whipped Real Madrid 4-2 in a friendly. Bernabeu's attempts to sign di Stéfano were fraught with controversy, however, because FC Barcelona also wanted to sign the bountiful striker. The attempts by both clubs to sign di Stéfano read like a comedy of errors, and matters weren't helped by the fact that both River Plate and Millonarios held his playing rights, as well as the Spanish football federation banning clubs from employing foreign players.
Things got so bad at one point that FIFA demanded that the Spanish FA step in to resolve the question of where di Stéfano would play. Working with both teams, a deal was struck to have di Stéfano to play four seasons in Spain – two for FC Barcelona and two for Real Madrid, to be played alternately. Needless to say, Barcelona's fans and management were infuriated by that decision. Di Stéfano was all set to sign with Barcelona, but Real Madrid's Bernabeu took advantage of the infighting in Barcelona's boardroom to convince him to cast his lot with Real Madrid.
The rest is history. Di Stéfano tore up the record books, setting records that would last for decades. He scored 216 goals in 262 league games for Real, making him Real's highest scorer until Raúl surpassed him in 2005; he's still second on the list, with Cristiano Ronaldo trailing him by 39 goals. Even more impressive is his tally of 49 goals in 58 matches in the European Cup; for decades, it was the all-time highest tally in the competition, until it was surpassed by Raúl in 2005, and Milan's Andriy Shevchenko and Real Madrid's Ruud van Nistelrooy in 2006. In all, Di Stéfano scored 418 goals in 510 official games for Real and around 800 in total through his career, though determining an exact number is hard to do given the scarcity of complete records.
G/O Media may get a commission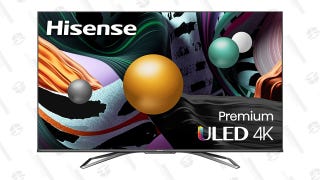 Save $350
Hisense ULED 65" Android 4K HDR Smart TV
But the most impressive statistic of all is this: di Stéfano scored in five consecutive European Cup finals between 1956 and 1960, and is one of only three men to ever score a hat-trick in a European Cup final — something that neither Messi or Cristiano Ronaldo have ever accomplished. Di Stéfano, more than any other player, is the man who made Real Madrid the most glamorous club team in soccer, and made them the team that everyone else wanted to beat. Di Stéfano's greatness was such that a player like Eusébio— who himself was no slouch—described him as "the most complete footballer in the history of the game". Di Stéfano could do it all: dribble, shoot, defend, and head the ball. Imagine, if you would, Lionel Messi crossed with Cristiano Ronaldo, Neymar and even Thiago Silva and you have a rough idea of how surpassingly versatile di Stéfano was as a player.
We'll never see a player like Alfredo di Stéfano again, thanks to the specialization in the modern game. So, when you fire up FIFA and decide to play as Messi or Ronaldo, take a moment and think of Alfredo di Stéfano , the blond arrow who pointed the way and set the standard for every modern attacking player in the game today.
---
Raf Noboa y Rivera is a contributor to Howler. Follow him on Twitter, @Noboa.
Screamer is Deadspin's soccer site. We're @ScreamerDS on Twitter. We'll be partnering with our friends at Howler Magazine throughout the World Cup. Follow them on Twitter, @whatahowler.
Photo credit: Getty