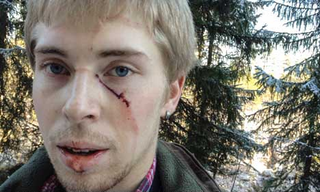 Bandy goalkeeper Henrik Karlström was attacked by a bear Saturday during a hunting outing in Sweden's woods. Wait, what's bandy?
For the unfamiliar, bandy is most similar to hockey, but with more players on the ice, a stickless goalkeeper, and a significantly bigger rink. Bandy also uses two 45-minute halves instead of three periods. Here's video of 2009's Bandy World Championship between Russia and Sweden. Looks fun.
Now that we're up to speed, Karlström's account of the bear attack, per The Local:
Karlström was pounced upon by the bear when he was hunting moose in a forest close to Ljusdal in eastern Sweden. He heard the bear making noises behind a bush and fired a warning shot before the animal spotted him and made an attack.

After the wrestling match with the wild animal, which he said "felt like forever," the bear finally let go.
Karlström, the goalkeeper for elite series club Edsbyns IF, might miss a match due to his bear-wrestling injuries.
Photo: Henrik Karlström/TT Nyhetsbyrån
H/t to tomuban