The NCAA came down fairly hard on Syracuse for what it claims were years of violations, including the use of ineligible players, boosters handing out cash, and allegations that athletes had their schoolwork completed for them. It's that last one that provides for some of the most fascinating reading in the NCAA report.
According to the report, athletics staffers were actively posing as basketball players, logging into their university accounts, and reading and sending emails to professors as if they were the players. (Fox Sports' Stewart Mandel first noticed this detail.)
From the report, emphasis mine:
[The director of basketball operations] collected and maintained student-athletes' usernames and passwords and provided them to others, including student-athlete support services. The director of basketball operations and members of student-athlete support services commonly accessed student-athletes' network and email accounts in an effort to monitor student-athletes' academic progress. In his interview, the director of student-athlete support services indicated that he believed this practice predated his tenure as director, which started in 2009.

[...]

[T]he director of basketball operations and student-athlete support services employees accessed and sent emails from student-athletes' accounts and corresponded directly with professors. Numerous emails included attached academic coursework, which was necessary to maintain the required grades for student-athletes to remain eligible. Recipients of the emails included student-athletes and the director of basketball operations. There is no indication that the director of basketball operations questioned or reported concerns. To the contrary, the email and related data suggest the common practice of the director of basketball operations monitoring, identifying and then remedying academic concerns through email correspondence, which purportedly was being sent directly by the student-athletes to their professors.
As you might expect, many of the course assignments that the support staff emailed to players' professors had not been written by those athletes. The report cites an internal investigation that checked the metadata of the documents handed in, and found that "the 'Author' and 'Last edited by author' field was attributed to someone other than the student-athlete."
This stuff presumably goes on at most programs, and it's tough to get too worked up—neither these athletes nor their programs believed they were in school for any reason other than basketball—but there are two things worth noting:
I'm impressed at how streamlined Syracuse made this process. Rather than requiring the players hand his assignment to a tutor, getting it back completed, and turning it into his professor, Orange players could stay out of things altogether and let the tutors just pretend to be them at every step.
I'm depressed that a university was devoting time, money, and resources to tricking itself.
G/O Media may get a commission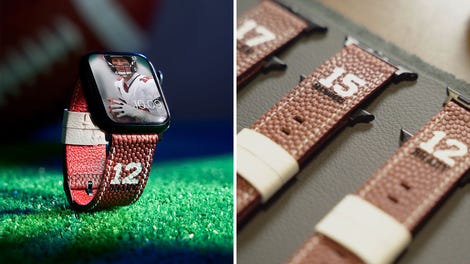 Official NFL PRODUCTS
Official NFL Apple Watch Bands
According to the NCAA report, one person—the director of student-athlete support services—did notice that funny business appeared to be going on, and that he thought "it looks as though work might have been done for these students." He explained in his interview with NCAA investigators why he didn't act:
The director of student-athlete support services did check the coursework for plagiarism. But at the hearing, he admitted that he did not alert anyone in either athletics or academics about his concerns. In his November 6, 2012, interview, he indicated that he did not report his concerns because he feared he would not be taken seriously. He had a sense that men's basketball might have "a little bit of special treatment." Finally, he acknowledged that he believed the director of basketball operations was behind the fact that a former academic support employee had been "pushed out" after 20 years of service, and as a new employee, was mindful of that event.
The full NCAA report on Syracuse can be read here. Let us know if you spot anything interesting.