In the recording studio of my mind, there are a lot of conversations about this or that half-baked track that's in need of something, and my solution is always the same: "Call T.I., he'll probably do it." And then he does a verse (in my mind), and everything is fixed.
In the real world, when I hear an actual T.I. verse on an actual track, my reaction is also always the same: Wait, Tip, what are you doing here? These days, the Atlanta rapper's main fault is his insistence on backing and defending Iggy Azalea, but that's neither here nor there: As a rapper, he has been doing his thing for about a decade and a half now, and he's still good, and nowhere near getting too old to be good. One thing he's particularly good for is guest spots; he shows up in the most surprising of places, and it's always the nicest surprise. Sometimes he's charged with simply bringing a song up to snuff; other times, he's really just driving it home on an otherwise very solid track that might even be his own. So join me now on a tour of T.I.'s musical surprise parties.
"About the Money"
Yes, this is technically a T.I. song that features Thugger, but it's really Young Thug's song. T.I. merely provides the color commentary, and it's no worse for it. Also, if anyone would like to discuss the line, "She don't want to have a good day / Smoke way more weed than a guy from L.A.," operators are standing by.
"No Mediocre"
Honestly, T.I. probably ghostwrote the entire song to begin with, but Iggy's garbage is only redeemable because T.I. is actually here. Iggy, go away!
G/O Media may get a commission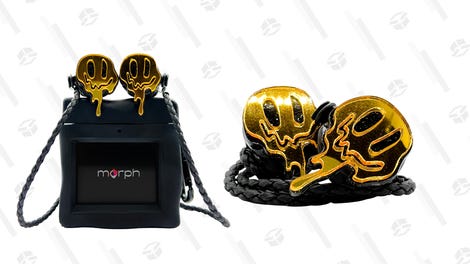 morph audio
Morph Earphones
"Try Me (Remix)"
Dej Loaf sings like a sweet, scary angel that will absolutely fuck you up, and this song did not need any assistance whatsoever. But a little stopover from T.I. is a nice bonus.
"That's My Shit"
T.I. and The-Dream love to work together, and in this case, T.I. offers a very nice bridge verse. By the way, The-Dream should've taken some sartorial advice from his good friend and worn a nice, normal suit for this video, rather than the steampunk-Elizabethan-collar situation he found himself in instead.
"Make Up Bag"
See previous point.
"F.I.L.A. (Remix)"
See previous two points.
"King Shit"
The beat bangs, but a guy like Yo Gotti surely benefits from having T.I. on board.
"Goodies (Remix)"
You're dancing. You're dancing. You're moving. And then you're like, T.I., what are you DOING here? Welcome!
"FDB (Remix)"
What do you do with a song that is pretty whatever? You call everyone you can, and you make sure one of those people is Clifford Harris. (And another is French Montana. HAAANHH!)
"They Don't Know (Remix)"
Or, you have an R&B song on your hands and you're thinking, "Damn, lots of radio listeners don't so much love R&B," just commission a remix with huge roster and give T.I. a spot on it.
"Let Me Love You (Remix)"
Hey, a remix for the hell of it. Why not! T.I., yup! He is down to clown.
"Jewels N' Drugs"
This is a bad and stupid pop song from a bad and stupid album, and it would somehow be even more bad and stupid were it not for T.I. (And Too $hort, hello!)
"Bugatti (Remix)"
Another massive remix for a massive song. It would have been wrong not to invite T.I.
"We Fly High (Remix)"
Once again, T.I.'s services are not needed, but they are sincerely appreciated.
"Let It Go (Remix)"
This is a great song. But you know what's a thrill? The addition of T.I.'s signature soft "ay, ay, ay" at the beginning.
"Hi Hater (Remix)"
Riddle me this: Has Maino ever contributed anything else to this world? My point exactly.
"It Ain't Me"
One final, delightful appearance from our good friend.
Image via AP