We get many fantastic tips in our inbox and from the #tips forum. Some are not so great. These are some of those #tips we specifically overlooked or ignored. All apologies.
•"FavreFAIL" catches us up on Terrell Owens' offseason training regimen. We hear he's holding out for a trade to Milan.
•"Jehovah's Witness Protection Program" was the only human alive watching All-Star weekend's "3-ball" competition, let alone screencapping Brent Barry obscene gestures. Twice.
•"Dr_Van_Nostrand" appears to have us confused with AskMen.com. But we appreciate the effort.
•"rulesboy" finds the Dallas Morning News doing a little wishful thinking:
By the way, if the Mavericks can get LeBron for Butler and Dampier, they would do it in one second. In fact, they would probably let the Cavaliers pick anybody on the team not named Dirk, with the possible exception of Jason Kidd, and do the deal."
G/O Media may get a commission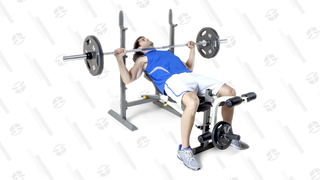 10% Off
Marcy Folding Weight Bench
•"Manhattan" finds space penises, even in death.
•"caesarscott" caught an old man using a now-homophobic idiom no one knows, during a sport no one watches.
•"DrSexington" wants to alert you to a "Tiger Woods party" — bring three girls and get in free.


Keep those #tips coming, people. Not the ones about the knockoff handbags, though. We're full up.