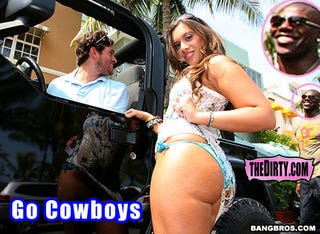 Now, there is no longer any doubt that Terrell Owens "accidentally" showed up in a frame of the BangBros. "Spring Break Ass" pictorial, as proven by a curt little letter from his attorney, Alan M. Lerner, obtained by TMZ.com, to TheDirty.com.
The letter, addressed to Nik Richie, blah-blah-blahs about all the problems the site has caused for T.O.'s "image" and demands a retraction of the language used in the post and the photo come down.
Nik Richie and his Dirty fellas are kind of pissed, obviously.
Good times. You can read through the letter and marvel at Lerner's legalese.
(UPDATE: Nik Richie tells us he's "Not worried" about any of the legal bitch slapping taking place about this.)