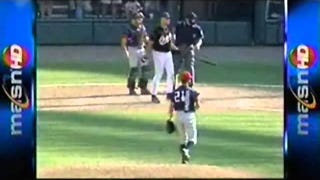 July 25, 1999. Orioles versus Angels in Turn Ahead the Clock Day at Oriole Park at Camden Yards, hence the hideous monochrome sleeveless trashbag novelty jerseys. Albert Belle batting cleanup.
One of the worst things about getting older is watching age wear down everyone else's edges, and wondering if the same thing is happening to you. That radical you knew is now a lawyer who hems and haws a lot about working inside the system, that one guy in the band you liked does corporate training seminars, and your…
The Indians have two pretty good candidates to helm the team next year, after firing Manny Acta with six games remaining. First, Sandy Alomar Jr., the bench coach who is acting as interim manager these last couple days—a beloved former Indian who was something of a field general dating back to his backstop days.…
No, Albert Belle did not qualify for the U.S. Open. Thanks for being curious, though! [Plain Dealer]
In case you have forgotten, former slugging psycho Albert Belle has been in jail since May for stalking a woman whom he once paid as a professional escort. Well, yesterday Belle plead guilty to stalking and will be sentenced in a month. He faces a potential sentence of two to eight-and-a-half years for the charge,…
Remember earlier when there weren't a lot of details available on what Albert Belle actually did to be arrested for stalking? Well, with thanks to Saved by the Blog, that situation has been rectified.