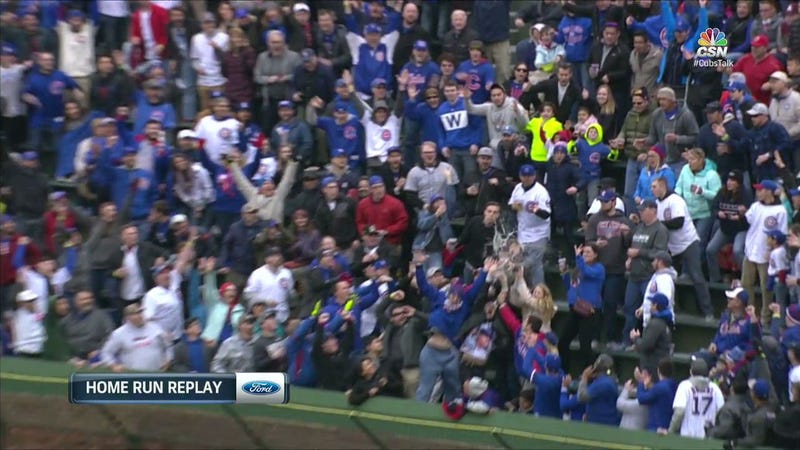 Just like that Marlins guy last night, Cubs fans in the bleachers got wet trying to catch a dinger this afternoon. Unfortunately, this was because Anthony Rizzo's first-inning dong exploded a fan's wayward beer.
This has been a great sports week, and you've only got a few hours until all that shit that made you feel good about being a sports fan fades into memory and you return to the office on Monday as the same cynical prick you've always been. But before you march back into the gloom, let the Chicago Cubs make you feel…
The Cubs are good at baseball. Real damn good. They lost a narrow one to the Pirates yesterday but they're still 27-9. The team has an off day today, so naturally, they went and did some karaoke last night. ChiCitySports.com was on the scene as Dexter Fowler, John Lackey, Anthony Rizzo, Jon Lester, Travis Wood, and a…
Here's Anthony Rizzo at Cubs BP this afternoon:
For the second night in a row a wannabe-Spiderman baseball player climbed on top of field equipment in a daring attempt to catch a foul pop-up. Tonight it was Cubs first baseman Anthony Rizzo, and after clambering on top of the field tarp and falling into the stands, he made the catch.
This is from Anthony Rizzo's first of two home runs yesterday (the Pirates' collapse continues apace). I want to draw your attention not to the play, but to the two gentlemen in center, struggling over that all-important baseball. Who has the moral high ground, and the right to the ball?
At first, we found the Houston Astros' nightly slapstick routine to be rather endearing, and it was easy to have laugh at their repeated shenanigans. But then, through no fault but their own, the Astros couldn't even run out simple ground balls without one of their own getting hurt.