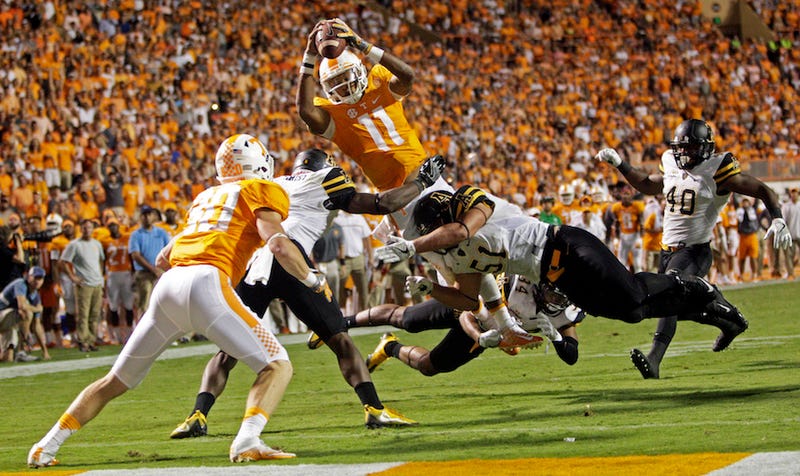 We all know of Appalachian State for one reason, and as the fates would have it, they played Tennessee nine years to the day of the upset that turned the school into as household a name as any then-FCS program could imagine. App State almost certainly could have earned another myth-making win last night, had their own…
Tennessee's supposed to be good this year—they're ranked #9 in ESPN's preseason poll—but their season is off to a slow start as they've allowed Appalachian State to jump out to a ten-point first-half lead, thanks here to a 33-yard touchdown catch and run by Marcus Cox. "Holy Toledo!"
At gunpoint, I'd say the guy on the left was a sea captain, or maybe the Gorton's Fisherman. With Appalachian State moving up to the FBS next season, they needed something a little more evocative of "mountaineer." So they're switching to the guy on the right, presumably after an intense design competition featuring…
Armanti Edwards, who is 32-5 as App State's starting quarterback, ran over his own foot while mowing the lawn. He'll be out 2-4 weeks. That's why you should only let racist National League baseball fans do your yard work. [TheState]
For whatever reason, poor Pam just can't seem to wrap her mind around the score of the Michigan-Appalachian State game. It's like her brain could no longer handle new info; wait until they put that score up on the scoreboard!
We can understand that Appalachian State fans would want to remember their upset victory over Michigan forever, keep it close to them so that, in moments of despair, they can remember that anything is possible, that the world can be a transformative place. (Particularly when Michigan is terrible.) But, frankly, this…
Dan Shanoff writes a weekly college football column for Deadspin. Email him to let him know what you think.