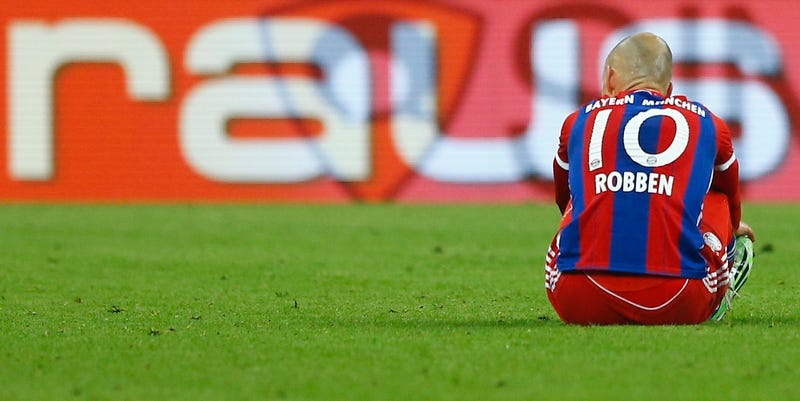 I can picture Bayern Munich boss Pep Guardiola hunched over in his kitchen, still dressed in one of his typically immaculate suits, a couple buttons undone and his tie hastily loosened, remarking aloud about his team's debilitating injury crisis this season. "Just when I thought we were out, they pull us back in."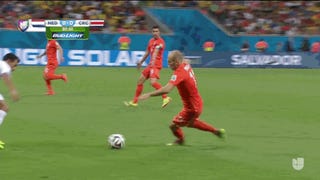 Robben went down very easily on this run—though perhaps he took a tiny shot to the pelotas?—and earned the Netherlands a free kick late in the game. Costa Rica were immediately unimpressed and called it a dive, but the ref showed yellow, anyway. Wesley Sneijder stepped up to take the shot and blasted it off the…
Here's a shirtless fan (with a carved "Y" of chest hair) verbally abusing Robin Van Persie as he leaves the Dutch hotel, yelling "cheater" and making diving pantomimes. Why? He thinks it's Arjen Robben. All Dutch people must look alike.
Arjen Robben blatantly dove multiple times in the Netherlands' comeback win over Mexico. He was also fouled multiple times. These happenings were not necessarily concurrent, though on certain plays they were, and they appeared to be on the final, fatal penalty call in the box. That's an unsatisfying summation of…
So, when Robin van Persie scored the goal of the young tournament in the first half against Spain, we didn't think it could get much better. Then, eight minutes into the second half, this happens.

Bayern Munich just knocked off German rivals Borussia Dortmund, 2-1, in the Champions League final after Bayern winger Arjen Robben scored in the 89th minute to win the match. It was maybe the best possible end to an action-packed match that was open and free-flowing from the opening whistle. It was also the best…
Your responses to today's post from The Spoiler were so wonderful that we've decided to give them their own gallery. Add more to the comments section (or send them to tips@deadspin.com) and we'll update below.
Fresh from registering their pixel-based horror at Robinho's 'Beardgate' fiasco, take a look at what the Interwebz' Photoshop goons have done with the above shot of Arjen Robben post-dive…