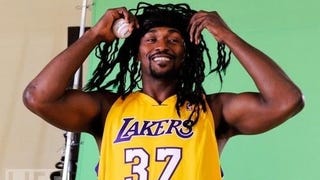 So, Ron Artest is making a movie about his life. That's...um, interesting.
Shouldn't that read DoucheFellas? Really, I have nothing to add here, other than this photo gave Dick Vitale a boner. Commence inspired commentary. [Sports Crackle Pop!]
Got an image you'd like to see in here first thing in the morning? Send it to tips@deadspin.com. Subject: Morning crap

The indefatigable Christmas Ape found the latest fashion craze happening in Baltimore—fake unibrows, in honor of rookie quarterback Joe Flacco. It's actually a charity drive, which is great, because I won't publicly humiliate myself unless it's for a good cause. Or cash. Preferably cash. [Kissing Suzy Kolber]
All this talk of players leaving early for the NFL Draft got us, and The Angry T, thinking: Who made the dumbest decisions to apply early for professional drafts?
When all is said and done, I blame the mom. When your last name is Karr, and dad comes up with the brilliant idea of naming the new baby Chevy, that's when you put your foot down, ladies. And you put it down hard ... on dad's genitals while he's sleeping, if necessary. And if he still insists, then you take the kids…
So you know the Super Bowl? Big game, Bears-Colts, this Sunday, Billy Joel's gonna be there? Yeah, that one. Well, in a move we'll probably end up regretting, we have accepted an invitation to do the live blog of the game for CBS Sportsline. We decided to do this because the Super Bowl is on CBS, and lots of people…