The notably media-reluctant Marshawn Lynch has been popping up on TV a bit more in the offseason, and was Conan O'Brien's guest tonight as the late night talker set up an "end zone" full of Skittles for the star running back to dive backward into. He even did his signature dick grab.
When Adebayo Akinfenwa last dropped-kicked our door down and announced his presence, he showed off his nose for goal with a tap-in against Liverpool in the F.A. Cup. It was a perfectly fine striker's goal, but it wasn't exactly what you'd hoped to see from a guy with a 97 strength rating in FIFA. This is more like it.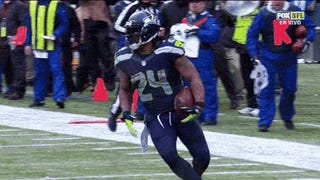 According to ESPN's Adam Schefter, the NFL is preparing to become much more aggressive in its battle against Marshawn Lynch and his continued refusal to give a fuck.
They don't make 'em like Adebayo Akinfenwa too often. The man-mountain stands at five-foot-eleven, has to be pushing 200 pounds, and can reportedly bench press damn near 400 pounds. That's how you get a world's-best 97 strength rating in the FIFA games.
The picture above was snapped before the Seattle Seahawks' loss to the Kansas City Chiefs, and it's a pretty good representation of how Marshawn Lynch is feeling these days.
Marshawn Lynch's mom, Sunshine, did not take kindly to Terry Blount's suggestion that the Seahawks could win without her son and responded with an all-caps rant that included "I GUESS THATS WHY HE HATES REPORTERS."
Beast Mode now includes telling your organization to shove it via the NFL Network. Earlier this evening, Marshawn Lynch called his former Seahawks teammate, and current NFL Network analyst, Michael Robinson and let him know that he was holding out of training camp and Robinson relayed the information on air.
Marshawn Lynch is known for being a bit reclusive and wary of speaking to the media, but Deion Sanders was able to corner him for a few minutes of screen time on NFL Network today. Things got off to a good start; Lynch just replied, "smooth" when Sanders asked him how he was feeling. "You look good," Sanders…
When you're young and stupid this is how you imagine all sports moments ought to look, like something out of a G-rated movie about an all-star donkey who plays point guard, or one of those daydream sandlot plays that involves you jumping off a friend's shoulders to catch the would-be home run. Then you grow up and…
The action in Oklahoma City has been hot tonight, with Thunder fans matching the intensity of the players (from both OKC and L.A.) on the court. Russell Westbrook's been especially full of flair this evening, but his steal-and-circus-shot is the kind of highlight that deserves several looks; Kevin Harlan's call,…