Last night, CSN Philadelphia's Jim Salisbury reported that the Mariners are "checking in" on speedy Phillies outfielder Ben Revere. This makes sense: Revere has been squeezed out of his natural left-field role, and despite a down year, is still miles better than what Seattle has been getting from its leftfielders this…
It finally happened. In his 1,466th career at-bat, his 1,566th plate appearance, the Phillies' Ben Revere hit an honest-to-goodness home run.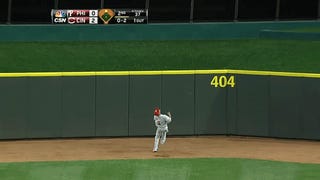 On Monday, Ben Revere laid out for a ridiculous diving grab, that won't be topped this season unless Jim Edmonds comes out of retirement. Last night, Ben Revere did this. You win some, you land on your ass some.
Catches don't get much more impressive than Phillies center fielder Ben Revere's second-inning, sprawling dive at the warning track in the Great American Ballpark tonight, robbing Cincinnati's Todd Frazier of extra bases.