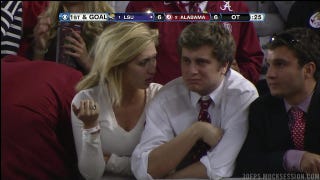 In what is turning out to be the most boring Biggest Game Evar, Alabama is tied 3-3 with LSU at the half in a game filled with hard hits and big mistakes—including three missed Crimson Tide field goals. That's not what has Nick Saban enraged (blame a missed penalty call for that) but you can see his anger in the…
That's San Francisco Giants closer and Taco Bell spokespimp Brian Wilson in full LSU regalia as College GameDay's guest game-picker this morning. Lee Corso got into the beard act as well. It goes without saying his appearance in such costuming did not go over well with the crowd outside Bryant-Denny Stadium in…
Signs that attempt to make phrases from ESPN are rarely clever (even when they're awesome) but this one, yet another reminder that LSU enjoys smoking fake weed, breaches the threshold.
We've been monitoring Occupy Tebow all week, but the basic and most important element is that the statement features "Greater Than." Leave it up to Bama fans get it wrong.
They're referring to this.