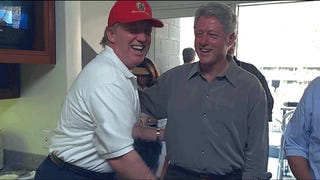 Thanks to a Freedom of Information Act request made by Politico, the Clinton Presidential Library has just released a whole bunch of photos of good pals Donald Trump and Bill Clinton doing what boys do best: Having fun.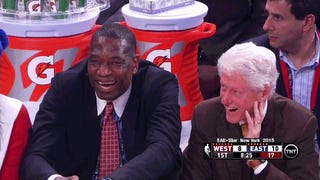 This has been floating around for a couple years, but it's news to us and there's no better time to share it than now.
Fourth-ranked Louisville rolled over Villanova, a 74-55 trouncing that was both expected and cursory. It sets up a final four showdown with Notre Dame tonight, while Syracuse and Georgetown face off again in the other semifinal. While the Big East tournament isn't dead, it will be different. The current configuration…
Let's take a brief respite from Penn State-related news to check in on the second-most miserable topic in today's sports coverage: the NBA lockout! If you've been following even from afar lately, you probably know that Bobcats owner Michael Jordan ruffled some feathers last week when he emerged as an outspoken…
U-S-A! U-S-A! U-S-A! U-S-A! U-S-A! U-S-A! U-S-A! U-S-A! U-S-A! U-S-A! U-S-A! [via Luke Winn's Twitter]
Every week, I'll excerpt a handful of stories — old and new, sports and otherwise, relevant and merely sublime — that I urge you to read for one reason or another. Send any suggestions to craggs@deadspin.com.