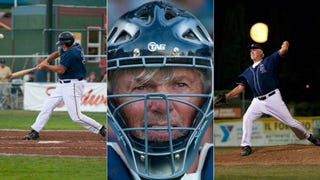 The Spaceman's still going, man. Baseball's most famous old hippie again made a couple of appearances with the independent San Rafael (Calif.) Pacifics this week, nearly one year to the day after he tossed a complete game for them at the age of 65. Far out.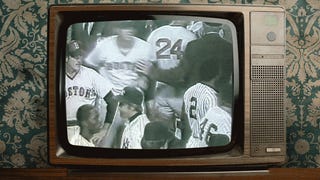 Lasting Yankee Stadium Memories, edited by yours truly, is out in paperback now. To celebrate, here's an essay from the late George Kimball. It's about Yankee Stadium II, Billy Martin, finks and phonies, brawling, and, of course, drinking with Bill "Spaceman" Lee.
On Saturday, we phoned former MLB pitcher Bill "Spaceman" Lee at his home in the Bay Area and asked him to participate in a live chat with Deadspin readers. It was just two days after the Spaceman, at age 65, had pitched a complete game for the independent San Rafael Pacifics. The Spaceman immediately agreed to…
Swing by today at 3 for our live chat with Bill "Spaceman" Lee. Baseball and drug use will probably be discussed.
The high—and I do mean high—priest of baseball eccentrics hasn't pitched in the majors since 1982, but he's still out there, you know, man, and he's still pitching, 65 years young. Last night, the Spaceman took the mound for the San Rafael (Calif.) Pacifics of the independent North American League. It was a…
The folks at The Golden Sombrero alerted us to this wonderful piece of baseball history: a 1980 High Times interview with pitcher Bill "Spaceman" Lee in which Lee holds forth on drugs, Bowie Kuhn, race, reincarnation, drugs, drug use, drug abuse, which drugs Expos fans threw to him in tribute, eating out Linda…
Paul Flannery drove many miles from Cambridge to Burlington to find out what one of the more colorful characters in baseball history is up to in his old age. It seems Bill "Spaceman" Lee hasn't slowed down a bit. Lee throws over 200 pitches in a 14-inning senior league game, wears Russian baseball jerseys, carves his…