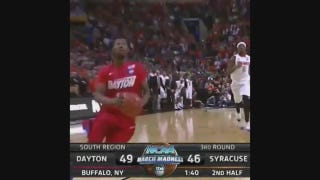 Bill Raftery continues to pad his stats as the best thing about the NCAA Tournament and tonight's Scoochie Goochie Koo-gasm was just another entry in the ledger. If he ever decides to get into the ring, we suggest this for entrance music.
Fox Sports 1, which launches in August, has poached its biggest name from Bristol: Bill Raftery is joining Fox Sports 1 after more than three decades with ESPN. He'll do Big East games with Gus Johnson. Enjoy that, internet.
Former Syracuse great Derrick Coleman is in Boston to root on the Orange in tonight's game against Wisconsin, and is looking a bit girthier than in his NBA playing days. Given the massive amount of debt he's been in, you'd think he might be living a bit leaner. [CBS]
Paterno being interviewed by Bill Raftery at last night's PSU/ND NIT game: "Everyone says it's a black mans game. When I played it was a Jewish mans game." [HHR]

While covering the SEC Tournament for The Sporting News, Orson Swindle Spencer Hall noticed a sheet of paper that analyst Bill Raftery had been doodling on. Above is that sheet of paper.
We think it's kind of amazing that ESPN has Bill Raftery working with Jay Bilas this week at the Big East tournament. That's not because we don't like either of them; far from it. It's just that Bilas, as a game broadcaster, seems to be doing a Bill Raftery impersonation. Which is fine, of course.
Like most of you, we enjoyed the dulcet tones of Bill Raftery during the tournament this past weekend, and we can't wait for more of the "with the KISS!" this coming Sweet 16 slate. But those of you who braved the NCAA Tournament On Demand saw even more of Raftery, catching him and partner Verne Lundquist in several…