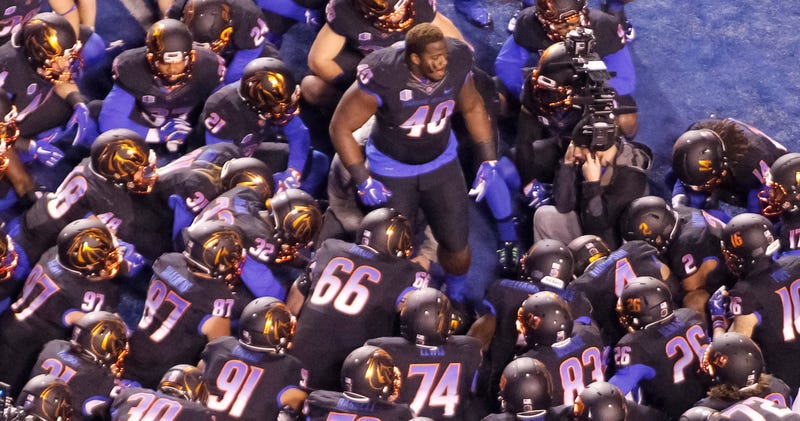 Everton downed Chelsea 2-0 in FA Cup action today, though the real excitement came in the final minutes as Diego Costa earned a red card for intruding on Gareth Barry's personal space; Barry himself would be sent off minutes later, but let's not miss the glory of Costa either kissing Barry, trying to give him a…
Jesus Christ, the music industry won't stop trying to make this dude happen. Not only do they let him leech off actually successful and talented acts, they even deny the obvious order of things (Young Thug >>>>>>> Travis Scott, under any criteria imaginable) in promoting a new co-headlining tour as "Travis Scott and…
FIFA will invite Luis Suárez to defend himself against fairly overwhelming evidence that he straight-up bit a dude during a World Cup match. Under regulations regarding player misconduct against other players and non-0fficials and/or more general rules of decorum in the disciplinary code, FIFA has given Suarez and…
Doyle Wolverton—the second-winningest coach in girls high school basketball—resigned as head coach of Leake Academy after allegedly biting his own player's face during a game Tuesday. Leake County, Miss. (not FL, amazingly) sheriff Greg Waggoner informed the Clarion-Ledger of the resignation, though Wolverton would…
Liverpool striker Luis Suárez, who earned a seven-match ban in 2010 for biting an opponent, is back to his Tysonesque tactics again as he appeared to go OM NOM NOM on Branislav Ivanović during today's match against Chelsea at Anfield.
Aaron Rodgers says a Seahawks player bit him when they played last year. Darryl Tapp denies it. This is news because we have to manufacture interest in a Green Bay/Seattle game somehow.
We never imagined that life as the husband of a successful women's college basketball coach could be so stressful, but, you know, the ones that aren't relaxing by sleeping with their players could potentially make life tough on the guys.