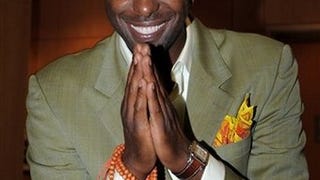 Every week, John Salley, onetime Bad Boy and currently the arachnoid half of the Spider and the Henchman podcast, will regale us with an amusing and occasionally salacious story from his playing days. Today: getting your spot blown up by Dennis Rodman
As you probably know, Marcus Jordan, spawn of Michael, spent an absurd amount of money last weekend at a Las Vegas nightclub. Some guy's ex-girlfriend was there, and he gave us a few pictures.
You're damn right I'm still ticked at an 18-year-old kid for ditching us for CBS. To that end, here's an amusing Facebook discussion on Bo and Sara's relationship status, featuring a cameo from Sara herself.