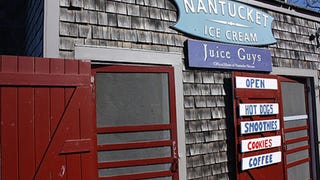 Corey Griffin, a former Boston College hockey player, was pulled out of the water in Nantucket in the early hours of Saturday morning after he jumped off a building into the harbor. Griffin apparently dove off the Juice Guys building, a local smoothie and ice cream shop on the water. An off-duty lifeguard eventually…
While most college seniors are putting the finishing touches on final projects, Boston College's Joe McConaughy started a charity. That charity is now involved with forging Boston Marathon bibs.
Boston College AD Gene DeFilippo, who was part of the ACC's expansion committee that lured Pitt and Syracuse away from the Big East, says something that shouldn't be a big shocker: realignment is about money. But to see it put so blatantly, and to see the four-letter network invoked so unapologetically, well, this is…
According to the New York Post, Boston College will follow through with its promise to fire coach Jeff Jagodzinski if he interviewed with the Jets. He did...so "He's done," said a BC source.
National Football Post, again: "Sources close to the National Football Post have just informed us that Boston College head football coach Jeff Jagodzinski has, in fact, interviewed with the New York Jets." '[NFP]