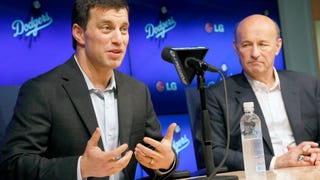 These aren't your father's Dodgers. Hell, these aren't the same Dodgers from when you went to bed. Andrew Friedman has been busy at his first Winter Meetings representing a team with resources, and he has revamped the Dodgers roster—well, basically overnight.
Yankees pitcher Brandon McCarthy contributed to a broken MLB record tonight against the Rays when he tossed the sixth immaculate inning of the season. His effort broke the record for most immaculate innings in a season, set in 1998. The first five were pitched by Brad Boxberger, Cole Hamels, Justin Masterson, …
"After thinking about it for a while, he says he realized what it was. 'That was the day that Nancy Grace's nipple popped out on TV,' he says. 'Her nipple popping out was what caused that home run'": Michael J. Mooney profiles a post-surgery Brandon McCarthy, whom he calls "the model of what we were told the modern,…
The Arizona Diamondbacks spent the offseason transforming into baseball's most complete collection of gritty players who really know how to get out there and scrap and grind and chop it up. Seriously, the 40-man roster is littered with little white guys who have spent their careers giving crusty sportswriters the…
It has not been the smoothest of 2012s for Brandon McCarthy, the talented Oakland starter. After a number of injury-plagued seasons, McCarthy began the year as the Athletics' opening day starter, only to hit the DL with a shoulder strain in May. A June return proved too soon, and he went on the DL again.
This is CJ Wilson, a reliever for the Texas Rangers, an up-and-comer, a LOOGY, if you will. He also has a MySpace page and is pals with teammate Brandon McCarthy, who also has a MySpace page. They're buddies, along with, as always, an endless supply of buxom blondes who write things like "p.s. you know, there is an…