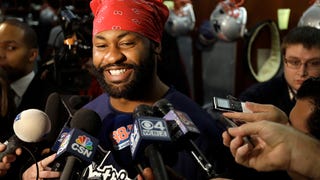 Linebacker Brandon Spikes left the Patriots after four seasons to sign with the Buffalo Bills. New England didn't seem to want him back, and the parting seemed amicable. But that won't stop some Patriots fans from overreacting when Spikes talked about beating the Patriots today in the most boring way.
Ray Rice was married Friday to Janay Palmer, the same woman he allegedly knocked unconscious in an Atlantic City casino. One day before the wedding, the knockout earned him an indictment on third-degree aggravated assault charges.
Just another example of professional athletes not knowing the proper way to act after a loss, as established by Rodney Harrison. Perhaps Spikes should be spending a little more time thinking about what more he could have done to help his team on Super Bowl Sunday, and a little less time "grinch smiling." [Twitter]
Some things are worth digging into our sack of scuzz money. The Patriots' second-round draft pick getting pleasured and broadcasting it to random strangers is not one of them.
There's been a lot of debate about Brandon Spikes' cat scratch fever on Washaun Ealey, but there's one point on which everyone seems to agree. Both Georgia and Florida play extremely dirty football and that's the way they like it.