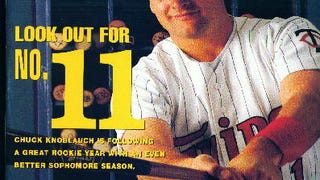 Here's Brent Schrotenboer, who's making his career covering this trial like Star Jones did with O.J., writing in the San Diego Union-Tribune:
We've never met Brian Giles; it's possible he spends his evenings studying Proust and calculating Pi. But we doubt it. The following tidbit is from The San Diego Union-Tribune (via The Smittblog), and we're just going to reproduce it in all its glory.
Marcus Giles has been a member of the San Diego Padres for less than a month; they just got the guy, for crying out loud. You thought it was a nice story, two brothers reunited — and it feels so gooood — but it turns out that it was a recipe for violence!

Since we're not nearly the pop culture oddity barometer we wish we were, we were not aware of MiniKISS, the band consisting of "little people" who dress up like (and play the songs of) KISS. We're not sure what we can say here, except that we like the idea of the Gene Simmons equivalent having a tongue he could…