Ever since he somehow survived Larry Nance, Jr. dropping a piano on his head, Brook Lopez has been biding his time, waiting patiently for an opportunity to earn his soul back from the basketball gods. That time came in the third quarter of Friday night's game against the Miami Heat; in related news, Rodney McGruder is…
A lot of the fun in going to see a world attention-grabbing movie on opening night is getting swept up in the pomp. If you're a Star Wars nerd, like Brooklyn Nets center Brook Lopez is, you want to be able to feed off the collective energy of the other nerds in attendance when you go to a midnight showing of Star…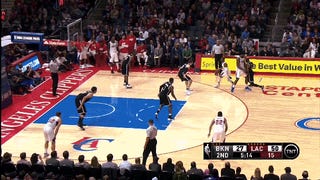 It is only the second quarter, but the Clippers are winning by 30 because of plays like this. It's okay Brook, you've got some company.
Brooklyn Nets center Brook Lopez is kind of a goofball, and he also has an unsettlingly deep voice. Boomer Esiason and Craig Carton decided to take advantage of these traits when Lopez was a guest on their WFAN radio show, by making him reenact a scene from The Silence of the Lambs in the role of Buffalo Bill. The…
Brook Lopez, one half of the approximately 14 feet that is the Lopez twins, was considered the more-talented basketball brother at Stanford University this past season. Although possibly not the more mature. Witness his wit and wisdom during the NBA Draft, including the highly quotable: "This is so booooooring!"