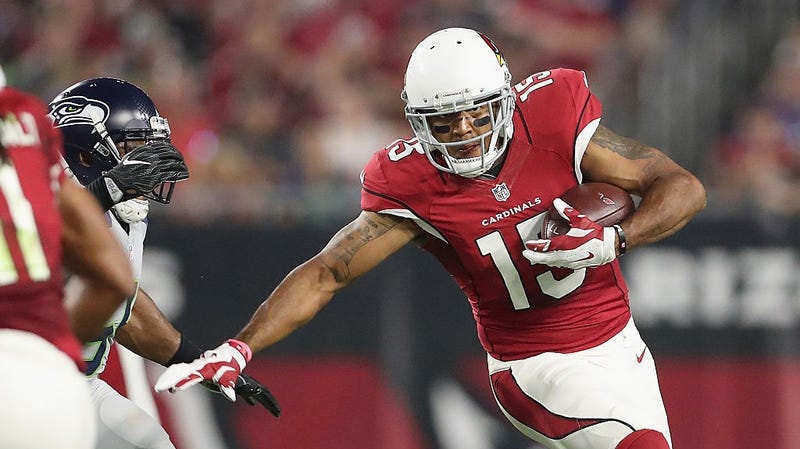 The Cardinals cut wide receiver Michael Floyd following his arrest for a DUI on Monday.
Please do not drink the Flavor Aid and let anyone tell you last night's game—at 6-6, the lowest-scoring tie since the NFL introduced overtime in 1974—was "good" or "watchable" or "a better use of your time than going to sleep early and starting the week rested." Special-teams incompetence, an Arizona offense that…
Moms, we need to talk about football, a very popular sport you may be harming. It is, in the words of one of its alleged coaching minds, "the best game that's ever been fucking invented." (Pardon the salty language, but I figure if you're a parent you already appreciate the miracles that fucking brings.) The quote…
With a dodgy offensive line and an unreliable running game, the Packers haven't been as strong as usual this year, but the Cardinals made them look like a fourth-place team on Sunday. Arizona pasted Green Bay in a 38-8 win that revealed why Bruce Arians's team is so scary: Their depth chart is stacked.
Arizona wide receiver John Brown was questionable with a bum hamstring before he was declared active for yesterday's game, a 34-20 win in Cleveland, but spent the game a-mouldering on the sideline. Who knows why he didn't play? Bruce Arians spoke about discovering and developing his WR depth and displaying offensive…
The Arizona Cardinals have hired Jen Welter as a "training camp/preseason intern coaching inside linebackers," making her the first female coach in NFL history. Welter, who played 14 seasons of professional football and was on the staff of the Texas Revolution in the Indoor Football League before Cardinals head coach…
Were you watching Thursday night football? I hope you weren't. The most exciting part was debating whether a little red flag fell or was thrown.
Every morning, the fine folks at Sports Radio Interviews sift through the a.m. drive-time chatter to bring you the best interviews with coaches, players, and personalities across the sports landscape. Today: Pagano's got the title, but Arians coached the wins.