Outfielder Carlos Quentin is reportedly retiring at 32. At last check, he was in the Mariners' minor-league system. Ken Rosenthal had it first.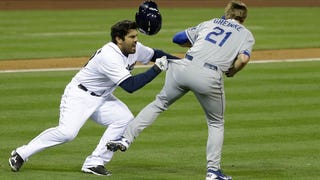 Yahoo has obtained an audio clip of San Deigo Padres CEO Tom Garfinkel saying dumb things about Dodgers pitcher Zack Greinke to a group of Padres season ticket holders. Greinke had his collarbone broken when Padres outfielder Carlos Quentin needlessly charged him after being hit by Greinke on a 3-2 pitch in a one-run…
Carlos Quentin was handed an eight-game suspension after he charged the much, much tinier Zack Greinke last Thursday, sparking a bench-clearing brawl.
Nobody was angrier about Carlos Quentin's decision to charge the mound and break Zack Greinke's collarbone last night than Matt Kemp. He was so angry, in fact, that he confronted Quentin in the parking lot after the game, and the two had to be separated by police officers. Thankfully, an AP photographer was on the…
Benches cleared in San Diego tonight after a Zack Greinke pitch hit Carlos Quentin on the arm, leading the Padres outfielder to charge the mound and spark a lengthy delay that resulted in several ejections and an irate Matt Kemp.