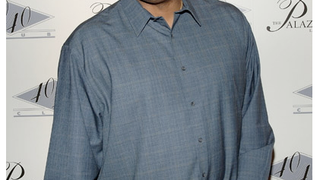 Charles Barkley will only have to serve three days in Scottsdale's Tent City Jail, not the five days he was originally sentenced to. It's like going camping, really! Except for the pink jumpsuit. [TMZ]
TNT has conveniently dropped the news that Charles Barkley will be taking some time off from its NBA broadcasts while he deals with all his "legal and personal issues" stemming from the DUI/blow job mess.
"Test results show former NBA star Charles Barkley was legally drunk when police arrested him Dec. 31 on suspicion of drunken driving in Scottsdale." [SI]
The full, horrifying truth is only now surfacing in the Charles Barkley DUI saga. Turns out that Charles was transporting wine coolers and a box of delicious bear claws on that fateful night, plus one very nerdy passenger: Steve Urkel.
Barkley gets busted on suspicion of a DUI early this morning in Arizona. He seems very appreciative of the arresting officers. [TMZ]