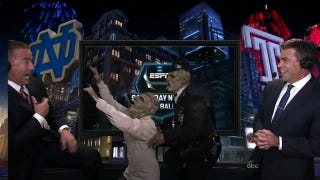 Chris Fowler played a wonderful prank on Kirk Herbstreit tonight, surprising the ESPN analyst with some characters from the Eastern State Penitentiary haunted house during halftime of tonight's Notre Dame-Temple game. It's the first time a zombie has been on Saturday Night Football since Eminem's appearance.
Tonight's Australian Open coverage on ESPN2 featured announcer Chris Fowler explaining to the audience that Japanese pro Kei Nishikori is, among other things, the highest-paid tennis player in the world and the owner of a restaurant chain, a soccer team, and clothing and perfume lines. None of those things are true,…
Longtime viewers of ESPN's College GameDay have come to expect the occasional misstatement or malapropism from Lee Corso; the reality is that Coach hasn't been 100% since his 2009 stroke. Today's mistake, though, was funny enough that Chris Fowler broke down on the set Jimmy Fallon-style, taking almost half a minute…
Back when I was going to school in the early 1990s, watching College GameDay was one of the highlights of my week. It still remains a rare diamond in the ESPN shitpile, left relatively unchanged since the early days of Chris, Lee, and Kirk (adding Desmond Howard to the mix was bullshit). But the show was at its…
Last week, The New York Times reported that three ESPN College GameDay anchors — Chris Fowler, Kirk Herbstreit, and Lee Corso — have had shoe contracts with Nike. We've known about Erin Andrews's endorsement deal with Reebok for some time, but the news that these three have worn Nike and agreed to speaking…
If you watched Georgia Tech beat Clemson two weeks ago, you might have noticed this Tiger fan's Oscar reel for Most Distraught Football Fanatic and the announcing crew's on-air sympathy. Of course, off the air was a different story.
Remember "BodyShaping?" That old ESPN show that featured, uh, people in Spandex lifting things and hopping around at a location of indistinguishable but distinctly beach-like flavor? Well, the host of that show was a woman named Jennifer Dempster, and, as MJD touched on this weekend, she recently married "College…