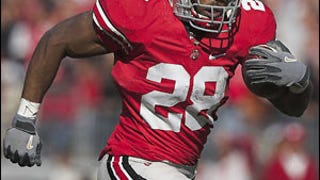 Future bets are out for college football. Updated ones at least. For odds to win the national championship and over/under on wins for the season. Now that we're about six weeks from kickoff some of these propositions start to get pretty interesting.
The most frequent email from ClayNation column readers since I said I was leaving CBS has been whether or not All That and a Bag of Mail will continue alongside the beaver pelt trader of the week. Fear not, we're rolling. Every Friday we'll do our best, like Matt Jones, to bring the goods.

We've all seen dunks that left us speechless. Especially if you witnessed them in person. I knew this was true, sort of vaguely, but that realization crystallized for me when I read Bruce Feldman's article about a then unknown Tracy McGrady throwing down on a top basketball recruit, James Felton.
Professional sports locker rooms are one of the last bastions for gay humor. That's because there's never been any gay athletes. So, you see, the very idea of anyone being gay is always funny. Which brings me to the first big scoop of my illustrious Deadspin career: The phrase "No Homo" has taken over NFL locker rooms.