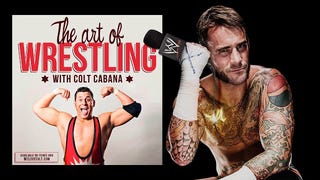 Former WWE champion CM Punk joined Colt Cabana's "The Art of Wrestling" podcast this week and dove deep into why he left the company. There is a ton of interesting stuff in here, and it's certainly worth a listen for hardcore fans who want the most in-depth look into why Punk left the wrestling behemoth.
The case for last night's ugly incident at the end of WWE Raw being a legit shoot grows stronger as a bold individual has stepped forward on his Twitter account to admit punching C.M. Punk in the kidneys, prompting the wrestler to club a nearby fan he appears to have mistakenly believed to have been responsible for…
C.M. Punk has risen to become one of WWE's most prized assets by leveraging decent athleticism, quality mic skills, and an especially strong ability to work shoots. We're assuming that's what happened tonight, as Punk sledged a fan in the face during the closing seconds of tonight's episode of Raw, though this might…
On Saturday at UFC 14, Chael Sonnen attempted a spinning backfist that was ducked by Anderson Silva. Sonnen tripped, took a knee to the grill, and the fat lady started singing. Two days later on WWE Raw, CM Punk paid a bit of tribute to one of the more theatrical MMA endings in recent memory: he missed his own…
There were some goings on at the WWE's "Money in the Bank" PPV last night (to catch up on the stakes, read the Masked Man's preview). Basically, CM Punk is "no longer a WWE employee," but left with the title after beating John Cena in the main event.