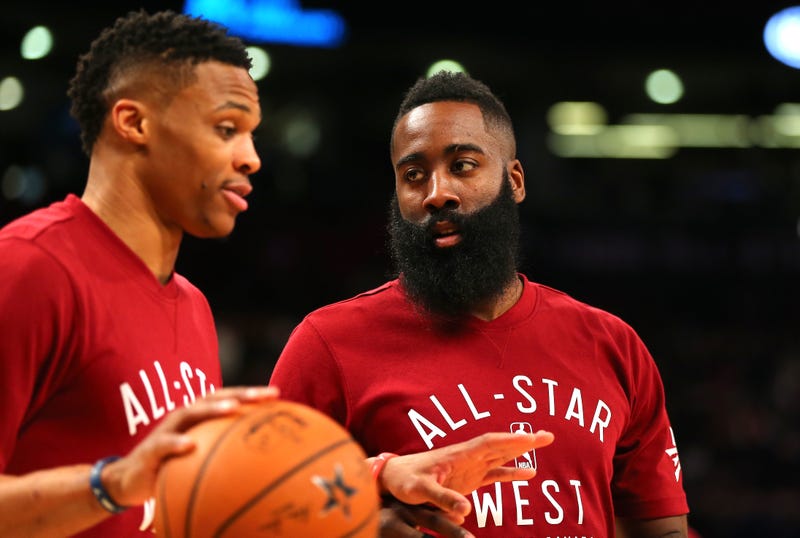 At first it appeared that the new CBA's "Kevin Durant Rule," which allows NBA teams to offer fatter contracts to keep their superstars from flirting with other options in free agency, would leave the Thunder and Rockets feeling like idiots. Last summer both teams just signed their cornerstones—Russell Westbrook and…
We knew the new CBA made life a little sweeter for the NBA's superstars, but it's a dense thing to parse, and explanations have been dribbling out slowly. ESPN's new Q&A with salary cap expert Larry Coon argues that the most noteworthy development is the owners' new weapon to keep their superstar players locked in.

There will not be another NBA lockout next year, as the NBA and NBAPA reached an agreement on a new Collective Bargaining Agreement. The deal has not been ratified yet, but Adrian Wojnarowski reports that it will be a seven-year deal. Here's the NBA's full release.

The NBA and the NBPA are halfway through a 10-year collective bargaining agreement ratified in 2011, but each side has until December 15 to opt out of the current deal and potentially trigger a work stoppage. Over the past few seasons a huge TV contract, a series of astronomical team sale prices, and a more pugnacious…
With NBA free agency nearly a week old, the most intriguing wild card remaining is Dwyane Wade. Although everybody assumed him returning to the Heat was merely a formality, contract negotiations have dragged on, and according to Miami Herald Heat columnist Ethan Skolnick, the relationship between Wade and the Heat is…
"Wait, how much money is that basketball jamoke getting?" is probably a question you've asked yourself over the past 24 hours, as all sorts of NBA players sign contracts for absurd amounts of money. DeMar DeRozan for $145 million. Dick-punching Nic Batum for $120 million. "Not good enough to get off the bench during…
NFL players will collectively receive around $50 million, and the 2016 salary cap will increase by around $1.5 million, after an arbitrator ruled that the league misclassified up to $120 million in revenue, according to the Wall Street Journal.
When NBA owners locked out the players four years ago, it didn't come as a surprise. For months before the league shut down in July 2011, both sides engaged in all sorts of public posturing meant to increase their negotiating leverage and convince the public of their righteousness. Some of it worked.
The Browns announced Saturday that they had suspended wide receiver Josh Gordon for violating team rules, and placed him on the reserve/suspended list. According to Michael Silver, as well as numerous other reporters, Gordon (and Johnny Manziel, who is on injured reserve) missed a walk-through for the 7-8 Browns…