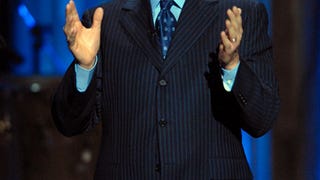 After months of haggling, the upstart MLB Network (which is pretty excellent by the way) has finally inked him to a full-time deal, Darren Rovell reports.
Frankly, I'm not sure what more more I can say about good ole Buzz. I think we covered everything here and here and here and, at last, here. I mean, what more is there? I suppose I can just leave you with videos, if you were somehow just beamed here. The original: And, of course, the brilliant remix by Mr. Skeets,…


Those foolish enough to miss the season premiere of "Project Runway" — and those not "connected" enough for ESPY tickets — might have stumbled across the newest episode of "Costas Now" last night. It was entirely about baseball. Hey, I love baseball! That didn't make the show any less dull; that is, until Willie…
Of all the panels on "Costas Now" the other night, the one we thought was most effective at tickling the cerebral cortex was the last one, about race, featuring Cris Carter, Michael Wilbon and Jason Whitlock. (It was so absorbing that "Costas Now" is doing a full 90-minute segment just on race down the line.) The most…
We really don't want to get into this too much more today, because yesterday was exhausting enough (and we weren't even working!). But we will say this: We were, bizarrely, on "The Best Damn Sports Show Period" yesterday, and not only was the level of discourse pitched higher than on "Costas Now," but, in fact, we…


So, here's the video of last night's "Internet Media" segment from Costas Now. Enjoy.
Good morning. As you may know I, A.J. Daulerio, will be handling the bulk of today's content on the site. If you'd like to send along tips or complaints, please send them to ajd@deadspin.com
Here's the important thing to remember about Buzz Bissinger, and whatever the heck happened on "Costas Now" about two hours ago: Buzz is not alone. Sure, he might be metaphorically alone, raining spittle on the imaginary demons that clearly haunt him. But if you don't think that almost every single person — with…
All right, as you might have heard, we'll be appearing live on Costas Now tonight on HBO, at 10 p.m. ET. Theoretically, this will be a roundtable discussion between ourselves, Costas, the outstanding writer (if not necessariliy sabermetrically inclined) Buzz Bissinger and Cleveland Browns wide receiver Braylon Edwards…