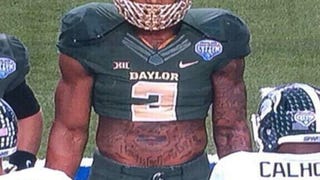 While watching yesterday's Cotton Bowl, many of us learned that Baylor defensive end Shawn Oakman is a gigantic person who does not look real. This screengrab might benefit Oakman a bit, but he is still listed at 6-foot-9, 280 pounds. He is a big dude.
For three quarters, the Cotton Bowl was a defensive game. In the fourth quarter, both offensives exploded and began trading touchdowns. The fire inside Gus Johnson that had been contained all night, was slowly rising for what we surely all knew was going to happen. Missouri took a 34-31 lead with three minutes left…
So, videos of college football fans getting tickets for Christmas are popping up all over, as they do every holiday season, but this one stands out for the elaborate scheme. It's on par with the final minutes of a soap opera.
Each college football bowl has a specific gift package for the players participating, and it's safe to say the Missouri Tigers were happy with the Cotton Bowl's presents. The video starts out with some nice team apparel—you have to serve the appetizers first—but when the Apple products come out, holy shit.
After the Super Bowl, it was revealed that Joe Flacco had seriously considered running onto the field from the sideline to tackle Ted Ginn if Ginn had broken off a big kick return on the last play of the game. Flacco's idea was a ridiculous one, and would have resulted in the 49ers being awarded a touchdown, but it…
The Cotton Bowl was an occasion for much revelry for fans of Texas A&M, who went into the contest confident about their odds against Oklahoma and got to see local hero Johnny Manziel for the first time since he picked up his Heisman in New York. That means, of course, that filming the pre-game set piece in the Cowboys…
The custom of calling post-season collegiate contests "bowl" games stems from the granddaddy of them all, the Rose Bowl, so-called for the eponymous bowl-shaped stadium. But our first association with the word "bowl" of course is as a container, most often for food, keys, change, or cereal milk and cigarette ashes and…