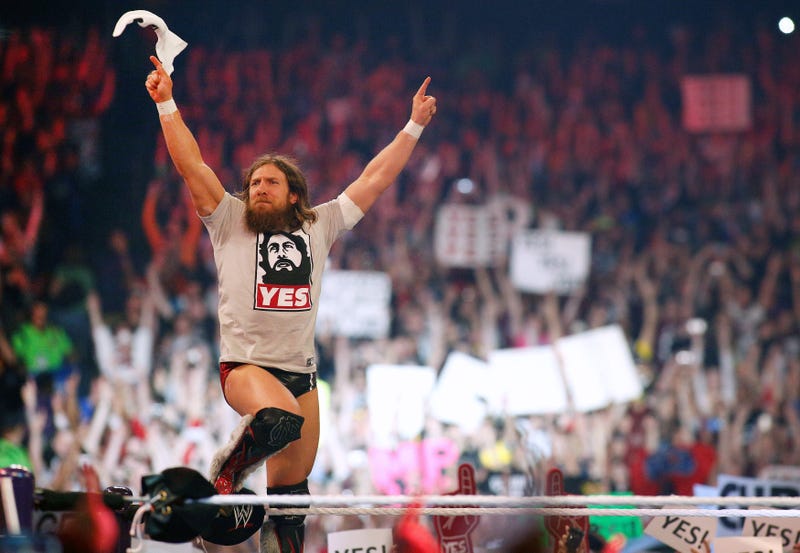 Wrestling fans rejoiced on Tuesday when WWE announced that after two years in retirement, Bryan "Daniel Bryan" Danielson had been medically cleared to return to action. Hours later, he bookended this week's edition of SmackDown Live, opening the show with his return speech and closing it by shooting the angle for his…
After the surprising news that Daniel Bryan was cleared to return to wrestling, he showed up on WWE SmackDown Tuesday, talked about the brain injuries that caused him to retire, and got right back to wrestling. Even for WWE, it felt on the nose.
WWE announced today that Daniel Bryan, who retired more than two years ago and hasn't wrestled since 2015 due to repeated concussions, has been cleared to return to pro wrestling.
Late in Yes!, the new memoir from the great pro wrestler Daniel Bryan, there's a moment where Bryan comes to an epiphany about what he's doing in the WWE—the place where he's been employed since 2009: "I came to the realization that what we were doing in WWE was no longer pro wrestling," he writes. "Instead, what most…
Daniel Bryan's WWE Hall of Fame induction speech for child cancer victim Connor "The Crusher" Michalek not only brought the pro wrestling superstar to tears but also—to the shock of some viewers—tore down the façade of wrestling storylines multiple times, admitting that "everything I've done...is fiction. It's not…
WrestleMania is the kind of thing you can really only discuss in superlatives: it's the biggest, the loudest, the most-hyped, the most outrageous, the most ridiculous, and the most fun. Yes, pro wrestling is a totally unique performance art, one of the last direct links to an old, weird America, etc., but more…
Oh, this is great. WWE was in Pittsburgh to tape Raw last night, and before the show Daniel Bryan dropped by the hospital to meet one of his biggest fans, 7-year-old Conner "Stone Crusher" Michalek.
On Saturday at UFC 14, Chael Sonnen attempted a spinning backfist that was ducked by Anderson Silva. Sonnen tripped, took a knee to the grill, and the fat lady started singing. Two days later on WWE Raw, CM Punk paid a bit of tribute to one of the more theatrical MMA endings in recent memory: he missed his own…