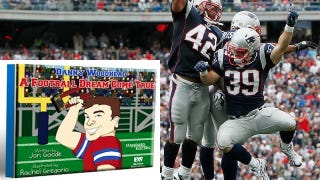 If every undersized, scrappy professional athlete could have an inspirational children's book written about him or her, the world would be full of adolescents with overblown expectations about their futures. But since that's already the case with America's youth, scraptastic young men like Greg Paulus, Dustin Pedroia,…
The Patriots have a thing for acquiring former Jets to play small roles on their team. (The Jets sometimes do the same thing.) We wonder why.
Nothing. He was probably just thinking of the movie, or maybe a penis. Also, it's not that funny.
I know we keep harping on this. But Hub fans keep doing stuff like running out and buying a guy's jersey just because he's "scrappy."
Last night, as was to be expected, Jon Gruden and the rest of the Monday Night Football gang talked about fun-sized pigment curio Danny Woodhead with the sort of insight and gravitas one finds on the cover of Bop Magazine.
Danny Woodhead, the Jets castoff and Rex Ryan-anointed "little fucker," made his Patriots debut yesterday and is already being touted as the economy-sized Wes Welker. Chief among these proponents is Dan Shaughnessy. Of course. Let's look at the best of the worst.