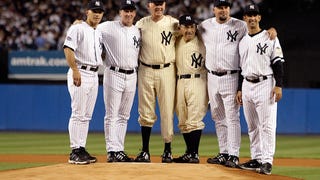 Wells claims he declined Canseco's juice suggestions back in 2001. "That stuff is not good for the game and it is not good for your body." And if anyone knows what's good for your body, it's David Wells. [NYDN; NBCBA]
We have just learned what David Wells had been doing between the time the Padres cut him on Augus 6 and he was signed by the Dodgers last week. He was surfing, according to him. Mitch Yost-like, no doubt, shooting the curl at Imperial Beach like a sleek seal. Come on Wells, you never once left The Beachcomber, did you?
Since Bud Selig has hidden himself in a secure, undisclosed location until after Bonds breaks the career home run record, The Quote Machine That Is David Wells is back in action. The Padres' pitcher has a few things to say about Roger Clemens' new contract with the Yankees, specifically the clause that would allow…
Obviously, David Wells — as evidenced by his appearance on the waiver wire in just about every fantasy league we're in — is much more useful as a quote machine these days than as an actual baseball player. And he's never more amusing than when he's being edited to suit the taste of the delicate newspaper reader.…
How great is it, honestly, to have David Wells around? We're almost sorry to see the Red Sox pitcher come back from that knee injury, because it means he'll be busy again. And we've learned that an idle David Wells is an entertaining David Wells — it's kind of like if Gary Busey all of a sudden showed up at your…
Today's first athlete run-in story is a brief one, but it's our favorite kind, because it involves David Wells and beer. Three beers, in fact. From a Cleveland reader:
It's a sad day when Boston fathead David Wells is turned into a Stepford Drone, but it has happened. On Monday, Wells blasted commissioner Bud Selig and essentially accused him of covering up the Rafael Palmeiro steroid bust, which, frankly, the rest of us all think too. But once Wells left his emergency meeting…

It's always amusing when Boston elderly punk David Wells pops off, but we have a suspicion that when he verbally attacked commissioner Bud Selig after his six-game suspension for bumping an umpire was upheld, he might have got himself in some real trouble this time.