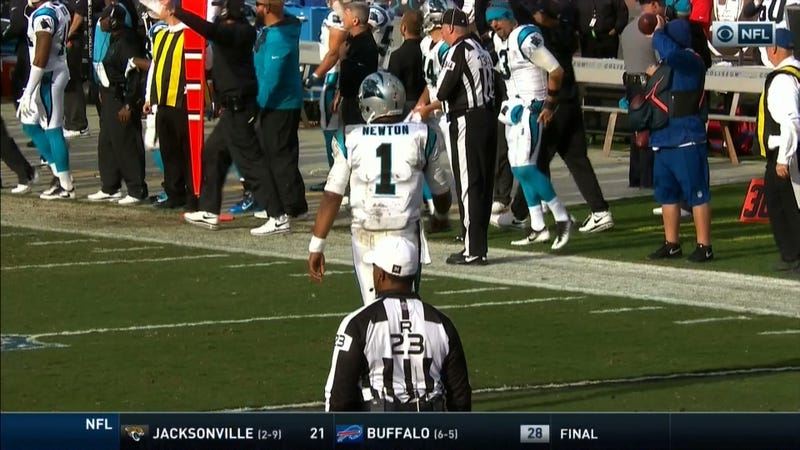 Carolina Panthers backup QB Derek Anderson was upset that his team didn't get a pass interference call late in the second quarter—upset enough to yell at an official from the sidelines. Anderson received an unsportsmanlike conduct penalty for "disrespectfully addressing an official," all the way from the bench.
The defending NFC champs are seeing their season slip away faster than anyone could have predicted. After last night's 17-14 loss to the Buccaneers, Carolina is now just the fifth team (of 100) to make a Super Bowl appearance and start the next season 1-4 or worse—the first since the 2004 Panthers.
Let's go back to the halcyon days of 2007, when an unheralded sixth-round pick named Derek Anderson outplayed Charlie Frye and Brady Quinn to become the Browns starter. Anderson would make the Pro Bowl and win 10 games as he led Cleveland to its best season since Bill Belichick was head coach. Anderson happily shared…
On Monday, Derek Anderson was scolded for smiling on camera during the Cardinals' loss to the 49ers, leading to his "Nothing is funny to me" tirade. Ex-NFL player Nate Jackson defends his former colleague from Jon Gruden and all the rest of the "emotionally stunted football pedants."
There is nothing official-official yet, but the rumors of Derek Anderson's demise seem to be gaining momentum. Anderson has been shaky since the beginning of the season and no longer showing the equine-like testicular fortitude that made him so immensely successful last year. Cleveland Browns' coach Romeo Crennel…
I'm picturing the scene from Meet The Parents where a dejected Ben Stiller stands in an empty terminal and must wait his turn to board the airplane, thanks to the by-the-book airline employee who has yet to call his row. "Please step aside, sir."