If there's one thing that really upsets me, it is the scientific community's continued insistence on turning dinosaurs into lame little fuckers. Today brings us news that paleontologists have created the most accurate depiction of a dinosaur in history, which means we now know that the Psittacosaurus was in fact a…
ESPN's Nick Wagoner has a fun story about Rams defensive end William Hayes, who is presented as the team's resident merry prankster. The highlight of the story is when Hayes shares his thoughts on dinosaurs:
Even if you have no idea what American Ninja Warrior is, I promise that you will enjoy this clip of someone running through a training course in a T-Rex costume.
Time for your weekly edition of the Deadspin Funbag. Got something on your mind? Email the Funbag. Today, we're covering packed thumbs, golf-club beatings, eyebrows, and more.
With the release of Jurassic World just around the corner, we wanted to revisit the Steven Spielberg classic that started it all. 1993's Jurassic Park has its share of great male characters (hello, Dr. Ian Malcolm!), but is most notable for its abundance of female roles. Below is our list of the 10 best female…
It's the most famous dinosaur that never was — or at least that's what paleontologists have believed for 112 years. After an exhaustive comparative analysis of over 500 physical characteristics, researchers have concluded that Brontosaurus is sufficiently distinct from Apatosaurus to warrant its own genus. Bronto, it…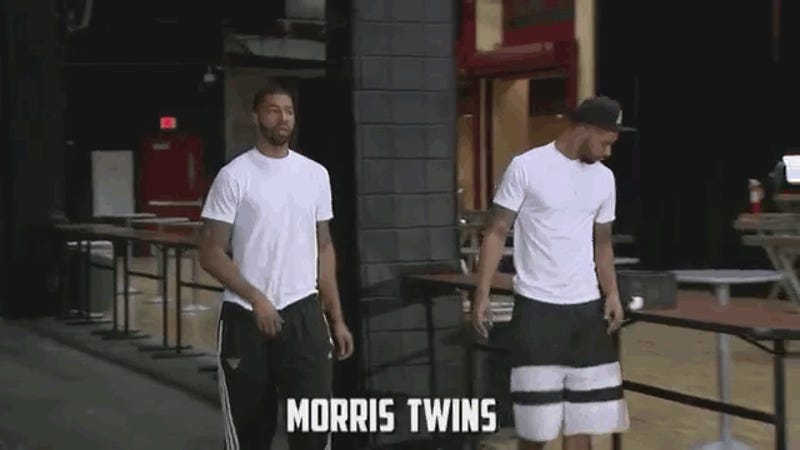 Completely blowing the Flyers' Halloween prank out of the water, the Suns' Goran Dragic teamed up with one of those animatronic dinosaur puppets to scare the crap out of his teammates. Please be sure fast-forward to 3:15 for the Morris twins; even the gif can't do it justice.
A dinosaur—an honest-to-goodness dinosaur—trotted to the mound and threw a ball to a hydrocephalic cartoon friar and then the Padres and Royals went and played baseball anyway. One of the largest hypercarnivores to ever walk the earth, here, in San Diego, after 65 million years of extinction, and we're just supposed…