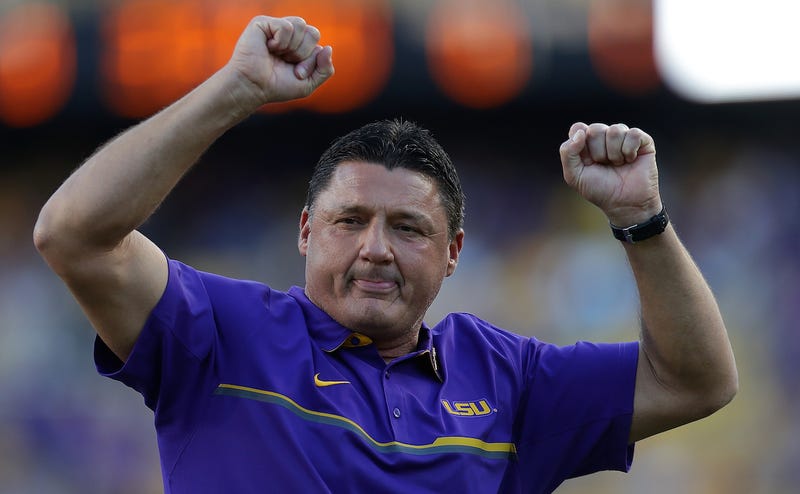 LSU football is 3-2 after losing at home to Troy, 24-21. The Tigers snapped their 49-game non-conference home winning streak with the defeat, and now they get to run a gauntlet of SEC opponents. Canning head coach Ed Orgeron might be consolation for this dismal start, but it would be quite expensive.
Ed Orgeron was hired to be LSU's head coach on Nov. 26; Tom Herman signed on for the same position at Texas on Nov. 27, reportedly after turning LSU down. Both are now in the midst of their first full spring heading up their programs, which consists of spring practices, hitting the recruiting trail, and, apparently,…
LSU football coach Ed Orgeron is an intense, occasionally incomprehensible man. So when he was on Dan Le Batard show's this morning, he was asked an important question: How many Monster energy drinks does he consume a day, on average?

Last week, LSU landed the nation's seventh-ranked recruiting class—signing 15 players who were ranked in ESPN's top 300, and trailing just two other SEC schools. But 17 of the school's 23 total commits came from outside Louisiana and only three of the state's best 12 high school players signed with the Tigers (as…
The difference between our idea of pregame speeches and the reality of those speeches is generally pretty stark. Coaches probably like to imagine themselves as priming their players to "run through a wall," but any time we get a peek a a real speech we often see a bunch of lame platitudes being strung together in…